Over 250 Volunteers Participate In Third NOLA For Life Day In Algiers
keesto | 4/25/2013, 4:58 p.m.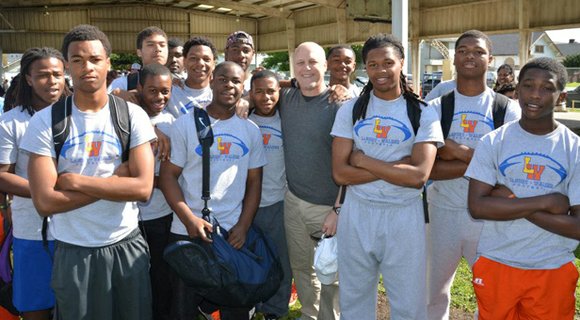 Over 250 volunteers joined Mayor Mitch Landrieu, District C Councilmember Kristin Gisleson Palmer, City officials, local community organizations, and residents for the third NOLA FOR LIFE Day on Saturday, April 20, 2013. The event, which took place at McDonogh Playground in Algiers, was a part of the Mayor's NOLA FOR LIFE comprehensive murder reduction strategy, which motivates citizens to join efforts geared towards revitalizing neighborhoods in high crime areas.
"NOLA FOR LIFE is about making our neighborhoods safer and enhancing the quality of life for our residents," said Mayor Mitch Landrieu. "We were able to garner the participation and support of City employees, residents, neighborhood associations, local non-profits and volunteers to all come together and help us reach our goal of making changes that improve public safety."
District C Councilmember Kristin Gisleson Palmer said, "This was a great day. It's another step in our city's ongoing effort to revitalize our communities in Algiers."
Volunteers built and installed 14 park benches, painted 20 trash cans, painted over graffiti at the field house, installed a baseball diamond, and planted trees at McDonogh Playground in partnership with Rebuilding Together New Orleans and Hike for KaTREEna.