'Kunta Kinteh Island' arrives in New Orleans
TerryB | 2/22/2013, 1:50 p.m.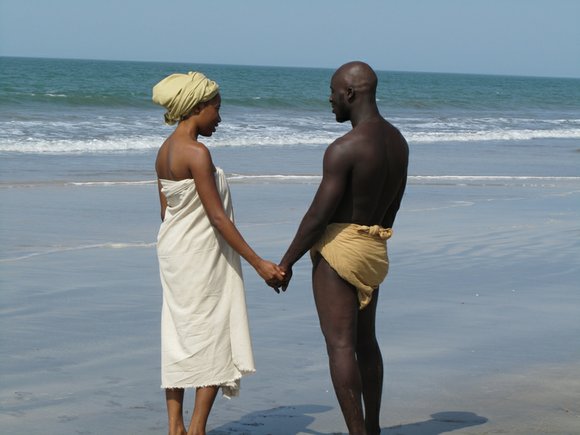 Endorsed by Director Tyler Perry, Urban League CEO Marc Morial, Actor Ben Vereen, and many other VIP's, the Elvin Ross Studios' Multi-City African History Film tour visits New Orleans with multiple events.
"Kunta Kinteh Island: Coming Home Without Shackles", an insightful documentary from Elvin Ross that is creating buzz around the country, will be shown in New Orleans on February 25th and 26th. The film traces the life of the celebrated captive African, Kunta Kinteh; his journey to America; his brutal enslavement; his triumphant survival through harrowing circumstances; focuses on his lasting family legacy through the profiles of his relatives who still live in the village of Juffereh in Gambia, West Africa today; and shares his recent symbolic return to the point of his captivity-- James Island, Gambia--which was formally renamed Kunta Kinteh Island as of February 6, 2011.
The New Orleans event consists of three screenings on the 25th and the 26th of February at Loyola University, St. Augustine High School and the Audubon Tea Room. All events in New Orleans and around the country will benefit the Albreda Jeffereh Primary School in Kinteh's impoverished Gambian village. The film is also being widely supported by academia with planned tour stops at influential institutions including Harvard University, Morehouse College, Wayne State University and Northeastern University.
WHO/VIP's in Support:
The insightful documentary also has the support of many prominent African-Americans, including Writer, Director and Actor Tyler Perry, National Urban League President and CEO Marc Morial, Actor Ben Vereen, as well as many other entertainment, civic and spiritual leaders.
"I felt the heart and emotion of our rich history in this brilliantly made and powerful documentary, Kunta Kinteh Island. I am very proud of my longtime friend and composer for recognizing the importance of retelling this story to this generation. I can't wait for everyone to see it!" -Tyler Perry
"Kunta Kinteh Island: Coming Home Without Shackles, is a powerful intersection of African and American history. Congratulations to Elvin Ross in his directorial debut as he shines a light on this fascinating story that celebrates the strength and spirit of the Gambian people, and introduces this important part of history to a new generation." -Marc Morial
"This documentary is a needed and significant reminder of the African Holocaust." -Ben Vereen
Produced by Elvin Ross Studios, the film was made to educate a new generation of Americans about the legendary warrior, to be a philanthropic effort to raise funds for the Albreda Jeffereh Primary School in Kinteh's impoverished Gambian village, and to develop an academic curriculum companion for the film.
Screening Dates and Locations
Monday, February 25th at 7pm to 9:30pm
Educational Symposium at Loyola University, Nunemaker Hall
The film will be screened and discussed by a panel, comprised of television, film and music industry notables including Director Elvin Ross.
Tuesday, February 26th (Time TBD)
St. Augustine Senior High School, 2600 A.P. Tureaud Ave.
This event will include a question and answer period as well as a screening of the film for students with Actor Ben Vereen and Director Elvin Ross.
Tuesday, February 26th at 7pm to 10pm
Audubon Tea Room, 6500 Magazine St.
This will be a black tie, red carpet event hosted by Dr. Debra B. Morton and the NOLA Host Committee. A Humanitarian Award will be presented to honor Chief Justice Bernette J. Johnson by National Urban League CEO and President Marc Morial; Actor Ben Vereen and Director Elvin Ross will also participate.
The events in each city will feature celebrity and VIP guests, and offer a first opportunity to view the film and to lend financial support to the Elvin Ross Foundation. The Foundation will provide general funding, books and solar laptops to the primary school.