Juvenile's Journey: From Magnolia to Millions
TerryB | 2/28/2013, 5:12 p.m.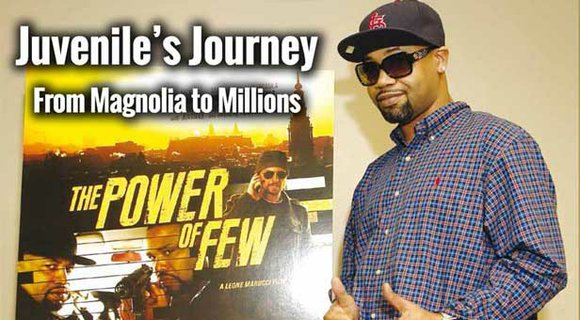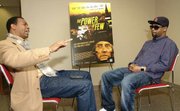 By Edwin Buggage & Photos by Glenn Summers
He is the creator of a unique style of rap, telling colorful, gritty stories of the Crescent City spitting rhymes laced with the unmistakable sounds of New Orleans speech and its cadence and rhythms marrying Mardi Gras Indian style singing with New Orleans colloquialisms and hip-hop. Juvenile (Terius Gray) has put his stamp on the music industry selling 16 million records throughout his career that spans two decades. He has topped the charts with songs that have become stadium anthems and today he is entering into a new arena; as an actor in the upcoming film, Power of a Few. Data News Weekly caught up with Juvenile and spoke to him about his entertainment career, his City, family life, the possibility of a Hot Boys reunion, his evolution as a person and his future plans.
"Juvy" in the Movies: The Power of Few
Today as I sit across from Juvenile he is all smiles as he is accompanied by his wife who stands nearby snapping photos of her husband on her iphone; also on hand was his Manager Aubrey Francis who before the interview spoke to me about Juvenile latest career moves. We begin with "Juvy "talking about his burgeoning film career, "I always wanted to get into movies and we got a major opportunity and to work with Christopher Walken, Christian Slater and Anthony Anderson that is what pulled me in to want to be involved with this project." The film is described as a religious conspiracy that collides with urban crime in a story told from multiple perspectives. The film was shot in and is set in New Orleans. It was written and directed by Leone Marucci and is chocked full of talent that also includes the title character, Few who is played by the precocious child Singer/Actress New Orleanian Tione Johnson. Talking about his future on the silver screen he says he is looking forward to doing more roles, but will take his time and be selective in his choice, "I don't consider myself an actor, but I happened to be in the right place at the right time, it was just a situation where this role was a good fit for me, I am sure there will be other roles out there coming my way, but if it doesn't fit me I am not going to do it, because I realize that I am still growing as an actor."
Inspiration: How to Make Something Out of Nothing
Many people know Juvenile as the guy who put Cash Money Records on the map nationally with his hits Solja Rag, Ha and Back that Thang Up, but his journey began early in the music industry as a teenager being part of the beginning of the bounce music phenomenon that would come to re-define New Orleans artists approach to doing hip-hop. Taking a walk down memory lane Juvenile talks about his career and how his life is an example of when talent meets opportunity that dreams can come true. "I grew up uptown in the Magnolia Housing Project, but I didn't let that hold me back from doing what I really wanted to do and that was music." Continuing he says, "When I started I was very young I got an opportunity to write for DJ Jimi, he kind of blew up and that was one of those situations where people wanted to know who was the cat working with him; and I was doing the writing, and I never looked back. Then I got a record deal and it didn't do well, but what it did was get people's eyes and ears open to what I was doing. And later on Cash Money Records gave me a deal and the sky was the limit, seems like everything we did was perfect; I built a solid rap career off of it, I sold 16 million records and now I am able to shoot movies."