Grandma's Hands: A Tribute to Geraldine Lamar
TerryB | 1/10/2013, 4:09 p.m.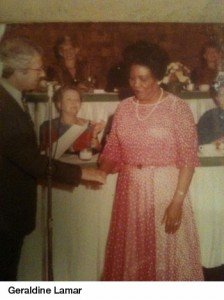 by Edwin Buggage
The great Singer/Songwriter Bill Withers wrote a song many years ago called "Grandma's Hands" along with other classic songs including, "Lean On Me" and "Lovely Day." These were only a few of the songs that were a part of the soundtrack of my childhood. One that was filled with music and it makes me smile thinking about the joyous times I spent with my granny, Geraldine Lamar playing her phonograph records.
Today, as I listen to the song "Grandma's Hands," I do so with a mix of joy and sadness. For I'm beginning this year without her; she recently passed away after nearly 90 years of life. Upon hearing she'd passed I silently cried through the night looking at her photos and thinking about all the memories we shared. I thought back to sitting on her porch or in her kitchen receiving her pearls of wisdom; teaching me responsibility, how to be strong and giving me an example of selfless giving and how to live a full life.
As she is in now in her glory, I've taken many of these life lessons with me and sharing them as now I am the father of my own children Eric and Elise. Today, I am leaning on God to help me get through the loss of my grandmother who's had such an impact on my life. I remember her love whether it was tender or tough, but it was always done with the intent on making me a better man.
I felt good that I made my granny proud by becoming somebody who's made an impact in the community and hopefully when my day of reckoning comes, will have further contributed touching the lives of people and leaving the world a better place. This is something I learned from my granny who was not just my granny, but was the granny for the entire community of children in the Broadmoor neighborhood where she lived across the street from Andrew H. Wilson Elementary School, for nearly 40 years impacting the lives of generations of young people. I think back of how good it felt when some of the other kids wished their grannies were "cool" like mine; she was that in addition to being warm, caring and giving.
I am someone who has a love affair with my City; I am 504ever, a trait I think I got from my granny. She was true New Orleanian, she could make a great gumbo, loved music, going to the secondlines and having a good time. I remember times when sitting in my granny's living room playing records from her extensive collection and her and I dancing together. It makes me smile thinking that she is now in heaven probably in the middle of a secondline reunited with her family and all the greats our City have produced.
For a while I was saddened when I thought of her life after Hurricane Katrina. Because right before the storm and levee breach that washed away our City she suffered a stroke and had to be airlifted out of the City. My mother and sister who stayed to care for her were left stranded on top the interstate and the Superdome. Eventually, my grandmother was placed in a nursing home in Houston and then Dallas, Texas spending five years away; and in 2011 she returned with my mother to the City of her birth. While she was not the woman I remembered, I came to treasure every moment we shared together during my visits to the nursing home. Just to see her and be able to touch her hand, kiss her face and tell her I love her and thanking her for all she did for me. And I felt good knowing that she would be able to live her final days in her City among her loved ones.
After initially grieving I smile thinking of all the memories. I know that she is gone physically, but a part of her is continuing to live inside of me and every one of the lives she touched. And as my life goes on I know that I am rooted in the firm soil my granny planted for me. Today when I look at the faces of my own children and see some of the things they do, say or are interested in I see generations of my descendants in them. I am smiling today as the gates of heaven open for a new angel Geraldine Lamar, and as I move forward "I know that it's gonna be a Lovely Day" for me because of the touch of my "Grandma's Hands."