Artists for Change: The New Orleans Hip Hop Experience Tour
keesto | 5/3/2013, 1:08 p.m.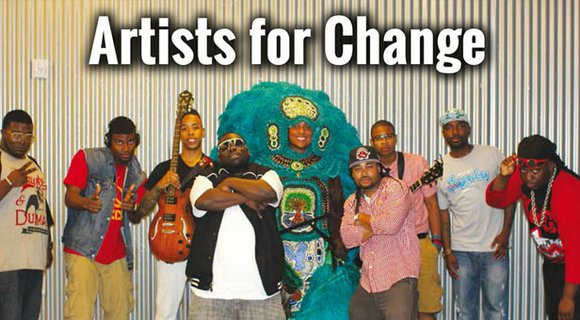 By Edwin Buggage
The New Orleans Hip Hop Experience (NOEX) founded by Dorian Francis, is an event where "Artists for Change" is partnering with "Keep Ya Head Up", (501(c)(3) non-profit organization) to help continue to rebuild the City by placing focus on encouraging the youth of New Orleans. "Keep Ya Head Up's" mission is to decrease recidivism for youth offenders. "Artist for Change" is a group of local artist that aspires to educate and inspire through music, art, education, and mentoring. The Ultimate New Orleans Experience is a by-product of these two organizations' passion, vision, and collaboration.
"This project is an extension of my work with young people," remarks Francis who runs four after school programs throughout the City of New Orleans. "We plan to go to various schools to showcase the untapped talent that is throughout this City. In addition to having emerging artists we have enlisted local rap/bounce legend "5th Ward Weebie", who has been a part of this scene for quite some time and is an artist that I feel can be an ambassador for this project because in the past years he's evolved into more than just a recording artist and is rooted in community service and uplift; also I feel he can serve as a mentor to the younger artist giving them the benefit of his many years in the recording industry."
The "Artist for Change" 1st Annual New Orleans Hip Hop Experience Tour kicks off at the 2013 New Orleans Jazz and Heritage Festival on May 4, 2013 and will take place on the Congo Square Stage, followed by an array of performances at schools and summer camps in New Orleans. Their mission is to attempt to capture the ears, hearts, minds, and rhythmic passion of its audience, and they will do so with a fusion of rap, hip hop, R&B, local bounce, and instrumental mastery. NOEX will offer a platform that will allow artists and students to showcase their talent and skills. The series of events during New Orleans Hip Hop Experience offers an incredible insight on NOLA's musical and educational experience. It also celebrates the unique cultures of our City and Louisiana by showcasing local New Orleans grass roots artist coming together to raise awareness, and to encourage and inspire the youth of NOLA, all while giving the audience a taste of unique hip hop and musical diversity.
"I am pleased that Jazzfest has given us a platform to launch this and give it this level of visibility," says Francis who works as a consultant with Jazzfest and the Essence Music Festival. "After this tour we are looking to expand and bring this into other markets, because I see that a lot of people love our City and what it has to offer in the arts, and I want to bring our unique culture to people around the country and eventually around the globe."
The Ultimate New Orleans Experience is the culminating event tentatively taking place in the summer of 2013. This amazing event will be totally free to the public. It will have a host of live entertainment, youth activities, public addresses from community leaders, and New Orleans cuisine. These activities will allow NOEX to serve as pioneers of presenting music as an art, hip hop as a culture, and tourism as the forefront of economic and youth development.
Francis goals for his brainchild extends beyond it being simply tied to a music event, but believes it can have a social impact that can create a shift in the tide of thinking about the youth of New Orleans, "What we are trying to do is more than simply do another music festival, this is about bringing people together through music and to make this City a better place for all of our people in addition to showing the world another face of the young people of New Orleans. One that is focused on showing the best of what the City has to offer and that more resources need to be prioritized into investing into the next generation so they can reach their full potential. And if we can do that, then our whole City can benefit from it, and the Ultimate New Orleans Experience as I envision it is more than just a music event, it can be part of the solution to some of the problems that plague our City."