SUNO's Sheldon Williams Earns National Championship in Men's 400 Meter Hurdles Dillard Produces five All-Americans at NAIA Nationals
keesto | 5/30/2013, 2:23 p.m.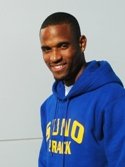 For the first time in seven years, Southern University at New Orleans has an individual national champion in track and field. Junior Sheldon Williams won the men's 400 meter hurdles with a time of 51.81, edging out Nathan Magstadt of Dickinson State by just four-hundredths of a second. The last athlete to earn an NAIA title for the Knights was current head coach Yhann Plummer, who won the 100 meters in 2006.
"It was an amazing feeling to win," said Williams. "SUNO has such an amazing tradition of All-Americans, Olympians...and for me to be a part of that as a national champion is an honor."
On the women's side, Junior Tamara Hunter earned All-America honors after an eighth place finish in the Women's 400 meter hurdles.
"I'm so proud of both Sheldon and Tamara, and also of our entire team," added Coach Plummer. "This is a great day for the University and something they will remember for the rest of their lives."
In overall team competition the men's team finished tied for 29th out of 60 teams with the women finishing tied for 53rd.
The women's 4x100 Meter Relay Team for Dillard University finished sixth in the nation during Saturday's final with a time of 47.09 in Marion, Indiana, at the 2013 NAIA Men's and Women's Outdoor Track & Field National Championships on the campus of Indiana Wesleyan University.