New Orleans Assessor's Office upgrades Staff's Professional Development Certification
Terry Jones | 4/18/2014, 3:38 p.m. | Updated on 4/18/2014, 3:38 p.m.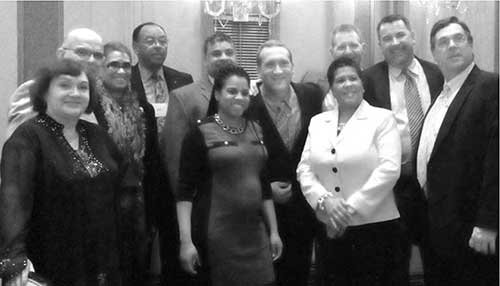 Assessor Erroll Williams congratulated nine employees with their Certified Louisiana Deputy Assessor pin at a ceremony recognizing their completion of the Louisiana Assessors Association professional development course. Those getting pinned, and receiving a certificate of achievement, are:
Brent Ardeneaux, Albert Coman, Jacquelyn Frick, Keith Lavigne, Aisha Malvoisin, David A. Mejia, James Miketa, Lisa Ross, and Thomas Sandoz.
Seven employees who are already Deputy Assessors were also recertified at the annual LAA Banquet, held recently at the Royal Sonesta Hotel. These are:
Darren Mire, Claude Mauberret, Juan Cousin, Marina Kahn, David Soublet, Russell Almaraz and Rhonda Williams.
Since becoming the sole Assessor for the Parish of Orleans, Assessor Williams now requires all executive level employees to complete professional development training consistent with the profession. All office appraisers must also be professionally certified.
Assessor Williams is a Certified Louisiana Assessor and holds a Louisiana Real Estate license. He has more than 35 years experience in public service. He received his Masters in Business Administration from Tulane University.
For more information about the New Orleans Assessor's Office, visit www.nolaassessor.com or call (504) 658-1300.