Hal Clark wins Playhouse on the Square's New Works @ The Works Playwriting Competition
Terry Jones | 2/14/2014, 8:56 a.m. | Updated on 2/14/2014, 8:56 a.m.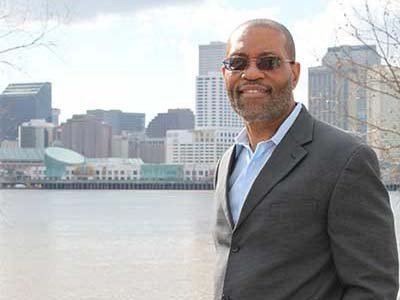 Playhouse on the Square (POTS), Memphis, TN's professional resident theatre company, recently named local playwright Harold Ellis (Hal) Clark one of two winners in its New Works @ The Works Playwriting Competition for his play, We Live Here, about a black couple from New Orleans' Lower 9th Ward who wins a brand new home in an all-white neighborhood and discovers their "dream come true" is too good to be true. The play's world premiere took place on January 2-25, 2015 as part of POTS' 2014-15 season at Theaterworks, the company's third performance space. The other winner is Teri K. Feigelson, author of Mountain View. Clark and Feigelson, were chosen from six finalists, winning cash prizes and travel accommodations to participate in the development and rehearsals of their plays.
The six finalists' plays received individual staged readings at POTS as part of the competition. Clark, his wife, Cherie, and several friends attended a staged reading of We Live Here this past December. Afterwards, the audience and cast participated in an engaging and frank talkback session about Clark's play that elicited a variety of strong emotions and observations.
"The directing and acting were superb. Several audience members were visibly sitting on the edges of their seats during the reading, and later were quite candid about the play's various themes during the talkback," said Clark, a New Orleans native who resides in Gretna, LA. "I'm confident that theatergoers will witness a captivating and entertaining production of We Live Here. I encourage people from the New Orleans metro area and elsewhere to visit Memphis for the play's world premiere."
Clark wrote numerous unpublished novels and unproduced screenplays for more than 18 years before writing his first play, Marrero Action, in 2010. It was produced a year later at the Anthony Bean Community Theatre (New Orleans). Clark won UpStage Theatre's 4th (2013) Annual Emerging Playwright Project for his play, Fishers of Men, which over the past two years has played to sold-out audiences in New Orleans and Baton Rouge. He directed a staged reading of the play starring original cast members Al Aubry, Martin Bradford, Damien Moses and Oliver Thomas this past December at LePetit Theatre (New Orleans). It was the featured theatrical production of the 2013 Words & Music Conference, hosted by the Pirate's Alley Faulkner Society. Fishers of Men receives a full production at Wiley College (Marshall, Texas), Friday, February 28th. A staged reading of the play starring original cast members occurs at Tulane University, Saturday, March 15th for the Freedom Summer Redux Conference.
He was one of two finalists for the 2013 Stanley Drama Award for his play, Tour Detour. That play also earned him recognition as a finalist in Stage West's 7th Annual (2013) Southwest Playwriting Competition, and as a semifinalist for the 2013 Eugene O'Neill National Playwrights Conference. Clark's screenplay, Chummy's Spirit, based on his similarly titled 2006 self-published novel, was named an official selection for the 2013 International Family Film Festival (Hollywood, CA). For more visit www.haroldellisclark.com.