Black Mardi Gras Traditions Lives On
Edwin Buggage | 2/26/2014, 10:27 a.m. | Updated on 2/26/2014, 10:27 a.m.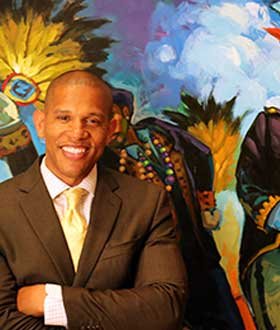 Mardi Gras and African-American Traditions
It is that time again where people from around the world converge on the Big Easy for the biggest street party in the world. Mardi Gras is a time of year where the City becomes engulfed in the spirit of parades, balls and revelry. While New Orleans has a rich history and a gumbo of people have contributed to it. It is undeniable that the African-American population is the roux that gives the City its unique flavor.
Zulu is a social aid and pleasure club that's been around for over a century, where their parade and ball have become a must see. In addition to their coconuts their annual poster has become a collector's item. This year the poster is called "Doing Footwork" done by renowned New Orleans Artist Terrance Osborne. Speaking of the poster he says, "It is part of a series of pieces I've done, last year for the poster I did "Good Morning Zulu" and it was more animated, but in "Doing Footwork" it is more realistic and my hope is that people can look at it and find themselves in it."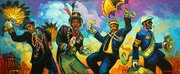 Looking back at his youth growing up in New Orleans Treme' neighborhood as the inspiration for the poster he says, "When I created this piece I remember the way people dance in our community, it was a natural dance everyone understood, but I didn't realize it was so unique until I saw outside the community that everyone didn't do what we did, but I feel it is great. In my work I have been able to give a window to people to see our great cultural traditions." Continuing he says, "I was always fascinated by the flambeaux carriers, and also the Mardi Gras Indians with their colorful costumes. What it takes to create their suits is incredible and as an artist I am amazed at what they do."
New Traditions Renew the Spirit of Mardi Gras
For a long time Zulu was the only African-American Krewe that paraded during Mardi Gras, but today there are many others who either are holding balls or parading. One is called Oshun; it started out in 1997 as an all-female club, but now has both male and female members. The Queen this year is Laquina Ladmirault-Brown and her husband Christopher Brown Sr. is King. Elated about her reign this year she says it has been a lifelong dream, "Since I was a little girl I would dream about this day but when I was young it was something that seemed out of our reach as African-Americans but today that is not the case."
As the parade rolled down the streets of uptown she says it was great to be part of something that shows African-American girls that their dreams can come true. Also she feels that for African-American parade goers African-American Krewes may throw more things their way and additionally serve as an inspiration and show that Blacks are an integral part of the Mardi Gras tradition. Reflecting on the important role her family and friends throughout this experience she says, "It was breathtaking and amazing being in the parade, I felt like a part of something that was amazing and incredible. It has been a great experience and I couldn't have done it without my husband and my family and friends by my side. It was great to share that with the people who are important in my life and inspire our City to build on top of our history with new traditions."