Local Candidates Face Off in First Public Forum
Terry Jones | 1/8/2014, 11:49 a.m. | Updated on 1/8/2014, 11:49 a.m.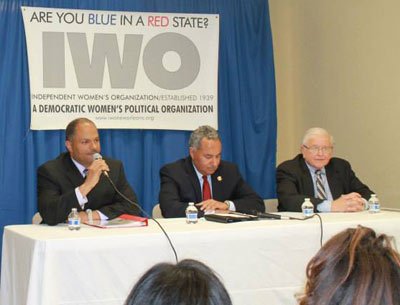 On Tuesday evening, candidates vying for the New Orleans Municipal Offices of mayor, sheriff, coroner and City Council all faced off in their first public forum hosted by the Independent Women's Organization of Greater New Orleans.
The event, held uptown, gave the candidates the opportunity to address issues on the minds of voters, like combating crime, economic development and creating more opportunities for youth in addition to more contentious issues such as the Consent Decree which is forefront in the race for Orleans Parish Sheriff.
The first city-wide debate of candidates for Sheriff, ended with a great deal of blame and finger pointing directed at incumbent Sheriff Marlin Gusman, who is running for a return to his position. Gusman's two opponents took shots at him for his management of the now notorious Orleans Parish Prison.
"The jail is not working," former Sheriff Charles Foti said. "For eight years he let it slip out of his hand."
"This jail is anything but decent. This jail is anything but human," Orleans Parish School Board President Ira Thomas said before jabbing a hand at Gusman. "This was done under this man's watch."
Gusman responded to his opponents by defending his record and saying that he had "embraced" the federal consent decree and that he was devoted to rebuilding the prison into a state-of-the-art complex. He deflected the causes of the problems back to Foti, who served as criminal sheriff for three decades prior to Gusman's election.
"I inherited a mess," he said.
"I would suspect that the sheriff's race is the most contentious," said UNO Political Science Professor Edward Chervenek. "The two individuals who have been responsible for the jail over the last several decades will be running for the job to reform the jail, and so you're going to see lots of attacks in that campaign."
The forum's moderator asked incumbent Mayor Mitch Landrieu to discuss how the NOPD consent decree will be paid for.
"We were able through reorganizing government, cutting smartly to fund both consent decrees. The police department consent decree costs $55 million and is fully funded," Landrieu said to a packed room.
Mayoral candidate and former NAACP President Denatus King said he'd help boost economic recovery in parts of the City still struggling from the storm by creating tax break zones.
"That's offering tax credits to people that employ residents from a particular area and to businesses that locate in a particular area," said King.
Judge Michael Bagneris who resigned from the bench at Civil District Court to run for Mayor was asked how he would transition to governing that involves negotiating with other lawmakers.
"In a word: communication. You have to talk with people, not at them or down to them. You talk with people you communicate," said Judge Bagneris.
Throughout this month civic groups will host forums where you can hear directly from municipal race candidates before Election Day on Feb. 1.
Here is a list of locations:
Wednesday (Jan. 8): The League of Women Voters and Urban League will be hosting a forum for City Council candidates in each of the contested Districts A, C, D and E at 6 p.m. in Georges Auditorium at Dillard University. The forum is open to the public.
Thursday (Jan. 9): The Alliance for Good Government will hold the first of its endorsement forums at Loyola University, starting with City Council District E at 6:30 p.m., then the District C candidates, then the mayoral candidates. The exact location is yet to be announced.
Tuesday (Jan. 14): The Alliance for Good Government will meet with candidates for Clerk of Court, Sheriff, Coroner and Council District D, starting at 6:30 p.m. at Loyola University.
Wednesday, (Jan. 15): The Alliance for Good Government will meet with candidates for the At-Large and District A City Council races, starting at 6:30 p.m. at Loyola University.
Thursday, (Jan. 16): The League of Women Voters and Urban League will be holding a forum for mayoral candidates from 7 to 8 p.m. at Dillard University's Georges Auditorium.