Data News Weekly Commemorates MLK and JFK; 50 Years Later
MLK and JFK 50 Years Later
Edwin Buggage | 1/15/2014, 5:34 p.m. | Updated on 1/15/2014, 5:34 p.m.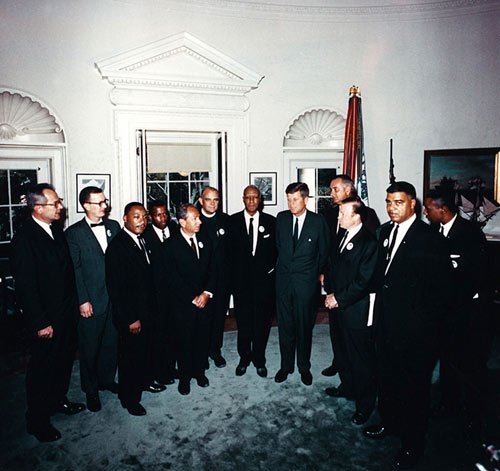 Last year marked the 50th Anniversary of the March on Washington where Dr. Martin Luther King Jr. dared to dream, making a speech that moved a country into collective action to continue to right the wrongs of a society at a time where Lady Liberty's light did not shine on its darker brothers and sisters. It was also a time where the nation had a young President in John F. Kennedy who a few years earlier in his inaugural address said to the nation "Ask not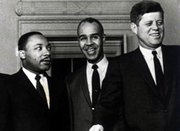 what your country can do for you, but what you can do for your country." These words had a dual meaning and irony attached to them. In a nation based on the ideals of liberty, freedom and justice for all citizens, African-Americans were trying to get the country to be true to its creed of all people being created equal. The message of Kennedy idealistic as it seems, was not a reality as fellow Americans were deemed them as outsiders with few rights. So during this time of social upheaval these two men found their lives intertwined in ways that continue into today.
Remembering the 1960's and the Struggle for Freedom, Justice and Equality
"The lives of Kennedy and King were an important part of times we were living in during our struggle for justice, one was the leader of our country who promised better times and the other was the leader of our movement trying to make it a reality," says Julia Aaron Humbles, who was a freedom rider from New Orleans. Today she is still involved in helping people in need. Speaking of the relationship the President had with the African-American community she says, "We received Kennedy warmly, we felt he had charisma and seemed committed to ensuring the rights of all people we thought he was honest and fair."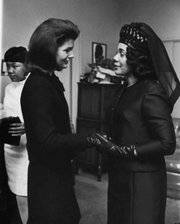 As she recounts these times she speaks of what was her first of several encounters with Dr. King that she says helped shape her life and mission to keep working to uplift and help those less fortunate. "I was 18 years old at the time and we wanted Dr. King to take part in the Freedom Rides that would start in Washington D.C. and end in New Orleans. We felt he could bring more attention to our struggle, he said he could not because he was out of jail on bond and I said to him not disrespectfully we are too, and we want you to ride with us. Although King did not ride, he supported us and before we got on the bus he came over to me and gave me a hug and a kiss and said young lady never give up on your beliefs and this is something I've never forgotten."
Sandra Monroe, who during the early sixties was a young teacher beginning a career that spanned over three decades reminisces about these times speaking of Kennedy she says she and many others liked Kennedy for what he was proposing, but that they trusted and admired King in their fight to get results, "We lifted Dr. King on a pedestal for his courage to make things better for all people, and we also admired some of the people who were involved locally in the civil rights struggle such as Jerome Smith, Julia Aaron and Matt Suarez."