New Orleans Civil Rights Tour Was Right on Time!
Ty Green | 7/25/2014, 1:13 p.m. | Updated on 7/25/2014, 1:13 p.m.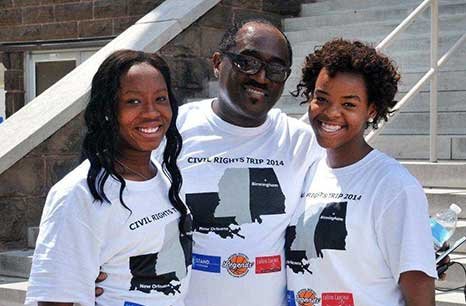 Led by former New Orleans City Councilman Arnie Fielkow, who now heads the NBA Legends as CEO and President of the Retired Players Association based in Chicago, Illinois, the tour hit the road on June 25th heading to Birmingham, Alabama. It was just before dawn, as four buses lined up outside the doors of City Hall at 6:00 am. Some 200 youths ages 11-16 came from various camps, church organizations and community centers to partake in what turned out to be an exciting well-orchestrated and well planned event. The participants were issued tee shirts displaying the events purpose "N.O.Civil Rights Tour" along with the various sponsors who engaged and supported the occasion.
This was year five, Mr. Fielkow and the city joined forces. However, it was the office of District C Councilwoman LaToya Cantrell who chaired the rotation. By 7:00 am the buses departed New Orleans with 11 chaperons, Feilkow's staff of three, two New Orleans police officers, a member from Sherriff Marlon Gusman's office, and Julius Felton, who kept Cantrell informed via text and conversations throughout the day. Other notables included Civil rights Pioneer from New Orleans Rev. Skip Alexander, Dr.Dorothy Smith, Keith Plessy and Marvin Roberts.
The buses arrived at Rickwood Field, home of America's oldest baseball park, where the Birmingham Barons took on the Mississippi Braves of the Southern League.This historic park, built in 1910, has hosted such great Hall of Famers as Ty Cobb, Babe Ruth, Reggie Jackson, and Satchell Page. As you might recall, when NBA legend Michael Jordan took a two year leave from the game to play baseball, he too dawned the Barons uniform.
While the game was in progress, the youths scattered throughout the stadium for refreshments, finding snowballs, cold drinks, and were treated to potatoes chips and hot dogs by Fielkow's staff. I noticed a large line of both men and women patiently waiting to get into this building. Being inquisitive,I slipped through the side door as men were exiting, and inside I found Hall of Fame pitcher Dwight Gooden, formerly of the New York Mets and Yankees signing autographs. Wow! Our next stop saw us arriving at the Historic 16th Street Baptist Church, home of the Southern Christian Leadership Conference, where Rev. Dr. Martin L. King Jr. was known to have recorded some of his greatest speeches. It was also the very site where on September 15th 1963, four little girls were victims of a bomb explosion at the church while attending Sunday school and 20 other church members of the congregation were injured as well. Later that same day, a young Black male was killed by a police officer, while another Black youth was killed by a group of white men, ending perhaps, one of the worst days in the history of the city of Birmingham.
We proceeded right across the street from the church, where the Birmingham Civil Rights Institute building was erected. There, the kids were stunned to see historic pictures of the Civil Rights Movement, statues of various leaders, with the likes of Rosa Parks sitting on the bus, fountains depicting the Jim Crow labeled Colored and White, and perhaps the most horrifying for most of the kids, including my 15 yr. old daughter, was the statue of a Ku Klux Klan member standing in his infamous white robe.