New Orleans Job Corps Success Stories: Educating, Empowering and Employing
Terry Jones | 3/21/2014, 9:59 a.m. | Updated on 3/21/2014, 9:59 a.m.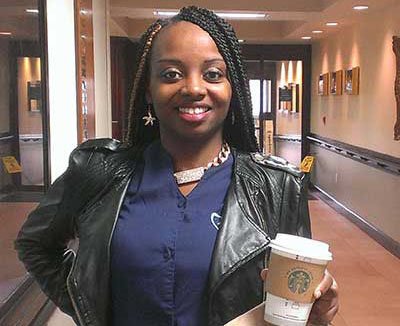 Waldolyn Patterson and Dewyna Taylor are the two latest success stories to graduate from New Orleans Job Corps. Patterson is now working in the nursery at Touro Hospital and Taylor accepted a Culinary position on an American military base in Africa last month.
Patterson, a Medical Office Support graduate, walks with the aid of a cane but she has never allowed her disability to stop her from pursuing her dreams with gusto. Today, she is well on her way to achieving her goals as a unit secretary in the pediatrics center at Touro. Patterson's immediate goal is to work in billing and coding. She graduated from Job Corps in January 2012 and credits the program with giving her life new direction.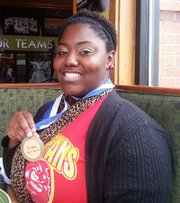 "I wanted a better life for my two children," says Patterson. "I ended up trying to go back to high school at the age of 23. A lady told me that I would be a great candidate for Job Corps. I did a lot of research on Job Corps and decided to go to the orientation because I knew it would be a great program for me."
"Being a person with a disability and a little shy as well, and coming into Job Corps not knowing what to expect, honestly, I thought that I would only be at the Center for a few days. I thought people would tease me about my disability but actually everyone embraced me," says Patterson. "One of my teachers-Mr. Leon Hartman- really pushed me to stay focused and the faculty and counselors helped me throughout the whole program."
One of the things that Patterson discovered about herself while at Job Corps is that she's a natural leader. The prospect of serving on the Student Government Association appealed to her almost immediately.
"When I first got to Job Corps, they were holding elections for SGA. Running for student government is something I wanted to try from the very first moment I arrived. I loved the idea of being in SGA. Being able to be a voice for other students and interact with people who wanted to get something more out of life was phenomenal."
Faculty at New Orleans Job Corps said they saw the seeds of greatness in Patterson from the start.
"She's bright with a determination to succeed, always willing to go that extra mile and learn new concepts in order to become successful" says her former MOS instructor Rayolga Delair.
As the Job Corps Center's Clinical Medical Assistant instructor, Rhonda Remo, who also works at Touro, has had the unique experience of seeing Patterson as both a student and now a co-worker. "She's always very persistent about achieving her goals and now, I'm proud to say that she's a co-worker of mine at Touro. She gets along great with the other nurses and her personality is perfect for working with the babies in the nursery."
When KBR, a technology engineering procurement and construction company based in Houston, contacted Odle Management Group, the operator of New Orleans Job Corps Center, about employment opportunities at Camp Lemonier, a U.S. Navy base in Djibouti, Africa, Admissions Manager Andrea Lister had little doubt that Culinary Arts student Dewyna Taylor was up for the challenge and ready to seize the opportunity.