Dee-1: On a Mission with a Vision to Redefine Hip-Hop
Edwin Buggage | 5/3/2014, 9:26 a.m. | Updated on 5/3/2014, 9:26 a.m.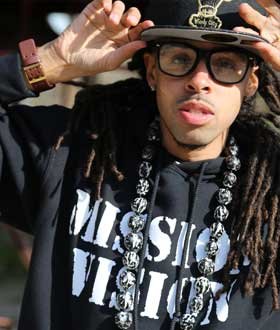 Hip-Hop at a Crossroads to Remain Relevant
When many think of hip-hop in its contemporary context it conjures up images of hedonism, misogyny and materialism run amok. It is unfortunate that in recent history much of the commercial hip-hop fits inside this small window for the world to see. One that displays the worst stereotypes of African- Americans and is destructive at many levels, but today via the internet many young artists are taking their careers into their , hands wresting the reins of hip-hop back. Back to a time where lyrics mattered and the spirit of the music gave voice to the voiceless. There is a young man who has taken this blueprint and leading a renaissance in relevant rap.
Dee-1 (David Augustine) is an artist from New Orleans armed with amazing lyrical skills that is gaining legions of fans through his mix of infectious catchy beats married to thought provoking lyrics. Describing himself he says, "I am a man of God who happens to be a good rapper and I am from New Orleans and happen to be Black. I think that is the four things that embody me, who I am as a person and as an artist at this point."
This former middle school math teacher, who graduated from LSU (Louisiana State University), is still teaching but in a different way, "I am a teacher, even if I am not in the classroom anymore. I am now trying to educate and inspire people through my music." His plainspoken lyrics connect with people from all walks of life. He says this is because he uses real life situation as inspiration. "I get my inspiration from conversations I have in everyday life, so as opposed to talking all the time I like listening to people who have real issues going on with them and it is one of the things that inspires my music and I feel that is why so many different types of people can connect with my music and I am glad I can reach such a diverse group of people with my music and message."
Rocking the Mic at Jazz Fest and Going to the Next Level
After releasing several critically acclaimed mix-tapes his most recent effort being Psalms of David Volume 4., he has garnered enough buzz that he now has a major label recording deal. But he is staying true to his grind, still releasing mix-tapes along with his upcoming EP on RCA. With a hint of elation in his voice he says, "I have a new mixtape in June called "Good Luck with That", and in August I will be releasing an EP with RCA, it has production from Super Producer Mannie Fresh, my band 5th Child and several other local producers."
Last week Dee-1 played to throngs of people on the Congo Square Stage at Jazz Fest right before the legendary socially conscious Hip-Hop Group Public Enemy. A moment that he says was humbling and another step up in his journey to the top as he gains more fans. "To play before Public Enemy has been my favorite Jazz Fest. It symbolized the progress I've made. This is the third year I have played it and usually I go on real early, so to go on before Public Enemy was amazing. When I think of Public Enemy I see a lot of similarities between Chuck D and myself lyrically because he is a great inspiration for me. So that meant a lot for me to go onstage right before them."