XU's Alexander Jumps to All-America Honor
Terry Jones | 5/30/2014, 12:45 p.m. | Updated on 5/30/2014, 12:45 p.m.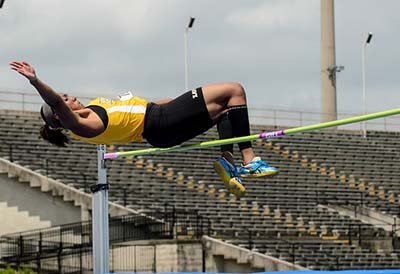 Angelica Alexander became Xavier University of Louisiana's second All-American of the 2014 NAIA Outdoor Track & Field National Championships when she placed fifth in the high jump Saturday.
Alexander tied her school record of 1.68 meters (5 feet, 6 inches). It's the third time this season that Alexander -- a senior from Shreveport, La., and a graduate of Byrd High School -- cleared that height.
Alexander, who earned her bachelor's degree from Xavier two weeks ago, entered the meet tied for 13th in the NAIA season rankings. Her best jump of 2013 was 1.57 meters (5-1 3/4).
"I'm proud of Jelly," XU coach Joseph Moses said. "This was not unexpected by any means. She got to concentrate on field events this year because she wasn't splitting time with basketball. She worked hard all season, got better and more consistent, and you see the result today."
Alexander was one of eight to clear 1.68 and was awarded fifth place because of the third-fewest misses in that group. Oklahoma Baptist's Akela Jones was the champion at 1.78 meters (5-10), and Westmont's Becky Collier was second at 1.71 (5-7 1/4).
Teammate Devinn Rolland was named All-America on Thursday after placing fourth in the long jump.
This was Xavier's final athletic competition of 2013-14.