New Day in Baton Rouge
Marion Hercyl | 12/13/2015, 10:28 a.m. | Updated on 12/13/2015, 10:28 a.m.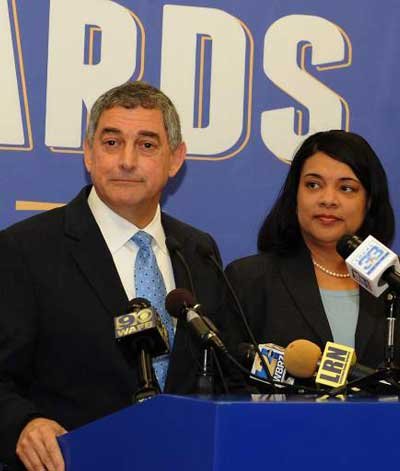 Gov.-elect John Bel Edwards, announced two cabinet appointments on Monday, to sort through the state's budget woes after announcing that saying the state's fiscal problems may be worse than even he expected.
The two key appointees who will help guide budget policies in his administration are Outgoing Republican Lt. Gov. Jay Dardenne, who was appointed as commissioner of administration, the governor's chief budget officer and Kimberly Robinson, a former aide to then-Gov. Kathleen Blanco who has spent the past eight years in the private sector, and will serve as secretary of the state Department of Revenue.
The appointments are two of the first four made as Gov.-elect Edwards continues the process of identifying the people who will play major roles in his administration. Edwards takes office Jan. 11 and plans to call a special session on budget issues the following month.
Together, Edwards said, the two must work to find solutions to heal the state's bleeding budget, which the governor-elect said suffers from "structural deficits."
"The (budget) situation might be slightly more acute than we anticipated, but it still has the basic structural deficits we must address," Edwards said.
Dardenne, who had run fourth in the governor's primary election, crossed party lines to endorse Edwards in his runoff race against Republican U.S. Sen. David Vitter, for which Dardenne was labeled a traitor by GOP officials.
The two men reiterated no deal was cut for Dardenne's endorsement. "Neither of us talked about a position with the administration when we discussed my endorsement," Dardenne said. "I asked for nothing, and he offered nothing."
Edwards said he would rely on Dardenne's experience both as a former legislator, when he once chaired the Senate Finance Committee, and as an administrator leading two statewide offices. Dardenne was secretary of state before winning two terms as lieutenant governor.
"I'm going to draw upon that knowledge and his relationships," Edwards said.
Dardenne said he was "delighted for the opportunity to continue to serve" Louisiana and the new governor. "I don't have all the answers, but I'll work as hard as I can to act responsibly to overcome our challenges," Dardenne said. "I feel my background has prepared me for this," Dardenne said.
Since her days in the Kathleen Blanco term, Kimberly Robinson has been working as an attorney specializing in state and local tax law at the Jones Walker firm. "Kim will be a great Secretary of Revenue," Bill Backstrom, leader of the firm's Tax & Estates Practice Group, said in a statement. "Her experience both in public service and at Jones Walker will help Kim lead the department in the coming years."
Robinson previously was a legal counsel to Blanco and served as a liaison to Revenue and Economic Development. She also worked for six years in the Department of Revenue's legal office.
"It's a pleasure to come back to public service," Robinson said, but she added she knows the tasks ahead won't be easy. "We are facing serious fiscal issues, and we have to be both thoughtful and responsible and take the best path to return to the citizens of Louisiana the proper investment of the money that they send to the Capitol," she said.

Robinson said she would approach her job by being "thoughtful and responsible and take the best path to return to the citizens of Louisiana the proper investment of the money that they send to the Capitol," with the taxpayers' money. Of his appointment of Robinson, "She is the right person at the right time to help simplify our tax structure for Louisiana businesses and working families," Edwards said.
The governor-elect said he expects to make more cabinet appointments this week. He will be sworn in and assume the office on January 11, 2016.