Serena The Great!!!
Jermal Greenberry | 7/15/2015, 11:34 a.m. | Updated on 7/15/2015, 11:34 a.m.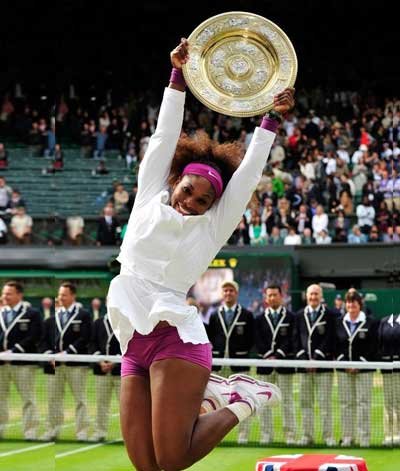 Lisa Leslie, Laila Ali, Serena Williams; all women, all athletes, all great. They reach a level of greatness that one can only dream of, let alone accomplish. If you were watching Wimbledon, you witnessed something special; a historical moment. Serena Williams captured her 6th Wimbledon title and 21st Grand Slam title overall, defeating Garbine Muguruza of Spain. This is not the first time Serena has won a major title and this won't be her last. Getting here wasn't easy, but I'm pretty sure she sees that every struggle to get here was worth it.
Williams is now 33 years old and has the chance to win all four major tennis titles. She is the best Female Athlete of our generation, or arguably the best athlete of all time. We cannot deny her amazing accomplishments and her place as one of the greatest athletes in tennis, male or female. Although Williams may make many of her accomplishments seem easy to obtain, she admits that couldn't be an assumption so wrong. "I've been trying to win four in a row for 12 years, and it hasn't happened. I've had a couple of injuries. It's been an up-and-down process," Williams said to ESPN's Melissa Isaacson, when asked about her "Serena Slam."
Some may say that other tennis players of Williams' era don't have the same level of competition as her; bottom line is they just simply can't keep up with her strength and agility. Some may also say that other legends such as Billie Jean King, Chris Evert, and Martina Navratilova would have given Williams more of a competition on the tennis court. There is no doubt that these phenomenal women played a huge role in tennis. Seeing Williams' name being mentioned alongside theses giants—now that's something special. What makes Serena special is not just her drive and passion to win, but her imposing will to dominate her opponent. She refuses to lose; she refuses to be defeated. When she's down in a match and needs to come up with a big serve or aces she finds the strength to raise her level of play. She wants to be and is the best at what she does. "She wants to keep this journey at the top as much as she can," Patrick Mouratoglou, Williams' coach told ESPN. "That's definitely the goal. And then if she breaks records, that's great."
This win makes it her sixth Wimbledon title. In her journey to the title, she defeated four women, three of which were number one ranked players: Venus, her 35-year-old sister, in the fourth round; Victoria Azarenka, of Belarus, in a close quarterfinal; Russian Maria Sharapova in the semifinals; then of course, Garbine Muguruza of Spain in the finals. Not even the great Billy Jean King and Martina Navratilova, who I believe set the standards for women in tennis, can say they've won a total of 21 Grand Slam titles. Williams only trails Steffi Graf who has 22 Grand Slam titles and the woman who went into history as the best Australian tennis player of all time, Margaret "The Aussie Amazon" Court, with 24. I have a feeling those records will change soon with the way she has dominated opponents in singles matches. But one thing has not changed, even after all these years. Williams is still No. 1. Williams has a chance to win four majors in a calendar year alone. That is just remarkable. I call it walking history. Williams sets the standard for many to dare to follow.