Roger Cador: A Living Legend
Jermal Greenberry | 6/10/2015, 10:41 a.m. | Updated on 6/10/2015, 10:41 a.m.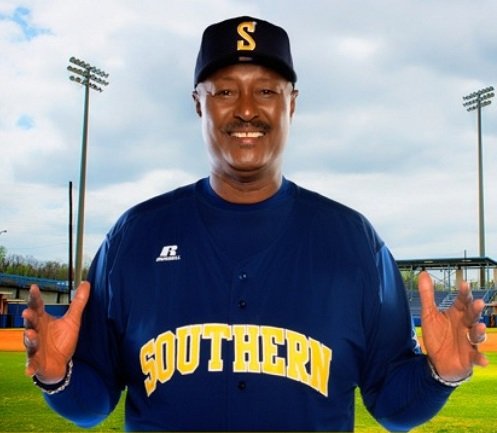 Roger Cador will enter his 31st season as Head Coach of the Southern University Jaguars Baseball Program. A native of New Roads LA and son of a sharecropper, Cador owes a great deal to his mother and the community that raised him. "My mother was a big force in my life because she was the one that encouraged me," Cador said. He believes that it takes a community to raise a child, and that's what keeps him motivated to continually coach the kids in his baseball program. "They aren't getting the type of leadership and guidance that we got when I was growing up because times are different," he said. "[The] community could help raise kids when I was growing up because everybody knew each other. [Now], kids don't have someone to say 'Hey! Don't do [that], I'll tell your parents'!" Cador's future didn't look so promising in his early years. "I didn't have the proper education so I struggled," he said. He didn't go to school full-time until the seventh or eighth grade, so dealing with the kids was tough, but he has never let that get him down. He uses his experiences to teach his kids a lesson. "What I try to do is instill in them that you can be whatever you want in this country if you work hard," Cador explained.
At Southern he would flourish as a student-athlete playing three-years on the hardwood and four years on the baseball diamond. "I knew that to get to college, I had to be a basketball player," he said. "And I ended up developing into a decent one so I could get to Southern, but once I got there, I was thrust into a position where I had to play both sports." During his years at Southern, Cador earned not one—but two degrees: a Bachelor's degree in Health and Physical Education and a Master's degree in Guidance Counseling. Cador's accomplishments on the diamond were just as remarkable.
After a successful college career with the Jaguars, the Atlanta Braves drafted Cador in the 10th round. His professional career with the Braves organization lasted only five years, starting in 1973. Those years with the Braves were valuable. He had the chance to get to know and play on the same team with his childhood idol: Hank Aaron. Transitioning from being a fan of Aaron to being teammates with him was an astonishing experience. "That was a big step in my life to meet someone as iconic as Aaron was," Cador expressed. "But at the same time, he was a very humble person and that taught me that you can be really good and still be humble."
After being an Outfielder for the Atlanta Braves, Cador retired to the place where he would make the most impact; the place that gave him his start: Southern University.
Serving as an assistant baseball coach from 1977-78 and as an assistant basketball coach from 1980-84, he began to make an immediate impact in young men's lives.