New Orleans Getting Ready for Super Sunday
A Look Inside the Mardi Gras Indian Tradition with Spy Boy Charlie Tenner of the Comanche Hunters
Edwin Buggage | 3/11/2015, 11:57 a.m. | Updated on 3/11/2015, 11:57 a.m.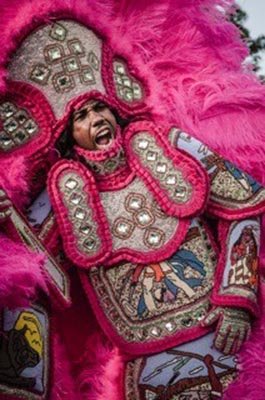 New Orleans: A City of Traditions
New Orleans is a City of great traditions. It is a place where life is celebrated on a daily basis. From the dissonant sounds of brass bands, to the amazing food, festivals and an appreciation of the arts not seen anywhere else in the U.S. One of the many traditions that continue is the Mardi Gras Indians. It is a centuries old tradition where African-Americans "Mask Indian" as a way to pay homage to the Native- Americans that helped them during slavery. This fusion of African and Native-American culture has survived and continues to evolve as another generation is being exposed to the unique world that is the Mardi Gras Indians.
Super Sunday Where Indians Come Together to Show their New Suits
The website Mardigrasneworleans.com describes Super Sunday as… Aside from Mardi Gras Day, the most significant day for the Mardi Gras Indians is their Super Sunday. The New Orleans Mardi Gras Indian Council always has their Indian Sunday on the third Sunday of March, around St. Joseph's Day. Their festivities begin at noon in A.L. Davis Park (at Washington & LaSalle Streets) where the Mardi Gras Indians once again dress in their feathers and suits and take to the streets to meet other "gangs".
Also, the Tambourine and Fan Organization traditionally put on their Annual "Super Sunday" parade on the Sunday closest to St. Joseph's Day, with their event beginning at Bayou St. John. In recent years, there has been yet a third Super Sunday called Big Sunday, which falls in April during the open weekend between French Quarter Festival and Jazz Fest.
Reflecting on the life of Big Chief Bo Dollis: A Culture Lives on in the Spirt of the Mardi Gras Indian Tradition
There will be a marked difference at this year's Super Sunday with the passing of legendary Chief Theodore "Bo" Dollis of the Wild Magnolias. This year during his passing there was celebrations everyday leading to his funeral that was attended by people from across the globe who paid homage to this great man who helped spread the Mardi Gras Indian Tradition to people from all over the world.
"Getting ready for 2015 Mardi Gras with the passing of Big Chief Bo Dollis it started off as very heavy hearted for anyone who's Masked Indian, but at the same time it is a joy. You can't get ready without hearing a Bo Dollis song being played or when you are fixing your suit. He may be gone physically, but he is still here," says Charlie Tenner Jr., Spy Boy of the Comanche Hunter Indian Tribe which is located in the Lower 9th Ward.
Spy Boy Charlie Tenner Gives the Facts on Masking Indian
Tenner has been Masking Indian every year since 1999. While not a requirement many of those who are part of the tradition began with a family member being involved. This is also the case with "Spy Boy Charlie."
"I got started watching my oldest brother who is an original member of the Creole Wild West. He was a Spy Boy. And my mom didn't really want too much for me to do it but one night we were helping a member of my family who is the originator of the Comanche Hunters whose gang I'm in now. We were helping him get his suit together and we was up all night and I was looking at all the fun he was having on Mardi Gras Day and I told my brother I said "I believe that I'm ready." And he told me that if Charlie you sew one picture we'll make it happen from there. And from that day on it's been history ever since," he says recalling his beginnings in this great tradition.