ABCT presents: Simply Irma!
Michelle Briscoe-Long | 11/6/2015, 4:16 p.m. | Updated on 11/6/2015, 4:16 p.m.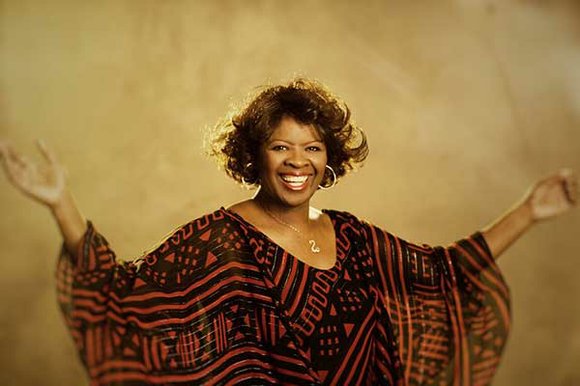 Grammy Award winner Irma Thomas will play herself in this musical production that documents the pitfalls and successes of her dramatic music career. You will sing and dance in the aisles to her many hits, such as It's Raining, You Can Have My Husband, Ruler of My Heart, I Wish Someone Would Care, Hip Shaking Mama, and many more!
The unrivaled Soul Queen of New Orleans -- a title officially bestowed by local officials is New Orleans' most enduring musical ambassador. "She remains one of America's most distinctive and classic singers, a treasure from the golden age of soul music who remains as compelling and powerful as ever..." says Rounder Records.
History Makers reports, "Blues vocalist Irma Thomas was born Irma Lee on February 18, 1941, in Ponchatoula, Louisiana. She was raised in New Orleans, Louisiana, and attended New Orleans' McDonald 41 public school. Thomas displayed her early vocal talents as a teen. She sang with a Baptist church choir and a gospel quartet at Home Mission Baptist Church. Her very first recording was a school song, which was recorded at Cosmo's studio with fellow classmates. At the age of eleven, Thomas won The Ritz Theater's talent night and two years later, she auditioned for Specialty Records.
Her big break came in 1959 when she captured the attention of band leader Tommy Ridgley while she was a waitress at New Orleans' Pimlico Club. Thomas offered to sing with Ridgley and his band against the wishes of her boss, who fired her for singing instead of waiting on tables. Ridgley arranged a recording contract for her with a local label, Ron Records. Her debut single, Dorothy LaBostrie's "You Can Have My Husband, But Please Don't Mess With My Man" hit #22 on the Billboard R&B charts in May 1960. Thomas felt that Ron Records did not pay her the royalties she deserved, so she left them to join the Minit record label. Most of her early 1960s Minit recordings were written and produced by Allen Toussaint and were strong regional sellers. In 1963, Minit was bought by Imperial Records. Thomas' first single with Imperial, "Wish Someone Would Care," was the biggest hit of her career and reached #17 on Billboard's pop charts in the spring of 1964. Thomas released nine singles and two albums during her three-year period with the Imperial label. During the 1960s, Thomas was a popular performer on the Southern college circuit. In 1970, Thomas moved to California where she worked at a department store and as an automobile parts salesperson. During this time, she continued working club dates on weekends and also recorded for several labels, including Atlantic Records in 1971. In the mid-1970s, she moved back to New Orleans where she remained popular as a live performer.
Her comeback as a recording artist started in 1986 when she produced an album, The New Rules, with Scott Billington of Rounder Records. Thomas received her first Grammy nomination in 1991. She received her second Grammy nomination in 1998 along with Marcia Ball and Tracy Nelson. She has continued to maintain an active recording and touring schedule since. Thomas married her manager, Emile Jackson, in 1977. Thomas has a total of seven children."
The Anthony Bean Community Theater (ABCT) was established in Spring 2000 to meet the growing demands of New Orleans area residents seeking a quality, culturally diverse, performing arts venue. The theater also met the needs of individuals seeking to learn the art of acting, set design and theatre management. In recent years, ABCT has become a vehicle to enter New Orleans' booming "Hollywood South" film industry.
The Ensemble
Najua Cook Walter Dixson lV
Madyson Barbain Jean-Marck Charles Jewel Mart
Allieta Blue Nechele Francis Kiersten Moore
Sheleta Burke-Manuel Sierra Green Immanuel Simon
Myia Carter Polanco Jones, Jr. Nina Tauriac
'Simply Irma' creative team includes: Anthony Bean (Co writer, director), Giselle Nakhid (Choreographer), Steve Burke Sr. (Vocal Directions) John Grimsley (Scenic), Lyn Caliva (Lighting) Ms. B (Costumes), Yolanda Cephus (Hair and makeup) Staci Tolliver (Stage Manager), and Michelle Briscoe-Long (Production Manager).
Hurry! Limited Seats Available!
Performances are November 6 – 15. Friday and Saturday at 8:00 pm, & Sunday matinee at 3:00 pm. Tickets are $25 and are available by calling the Box Office at (504) 862-7529. (Box Office hours are Thursday - Saturday, 6pm - 8pm and two hours before performances.) Tickets can also be obtained on line at www.anthonybeantheater.com