Saints Continue to Turn Tide on the Season with Win Against Giants
Jermal Greenbery | 11/6/2015, 4:09 p.m. | Updated on 11/6/2015, 4:09 p.m.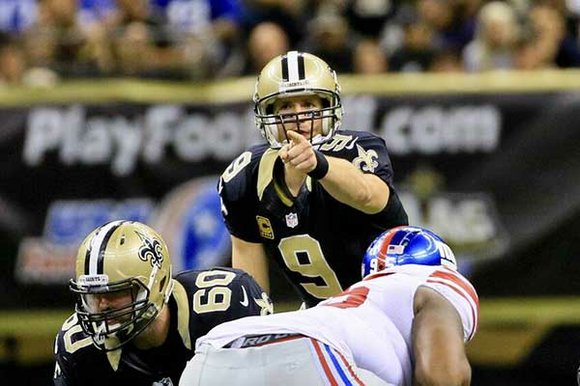 After a slow 0-4 season start, the New Orleans Saints find themselves at .500 with a 4-4 record. Quarterback Drew Brees looks like his old self again, completing 39-50 passes for 511 yards, seven touchdowns and two interceptions. Brees now has a quarterback rating of 148.71 as he tied an NFL record of 7 touchdown passes. The Saints defense still has more work to do, as they surrendered six touchdown passes to New Orleans native and New York Giants Quarterback Eli Manning. Isidore Newman High School and LSU standout Odell Beckham, Jr. also had a big day with three touchdown receptions. Despite an off day by defense, the black and gold was able to come away with the win of 52-49 against the Giants.
The Saints are now at the mid-point of the season. After eight regular season games, fans weigh in on the performance of their beloved Saints. "It's been an emotional roller coaster so far, but I think we still have a chance to go all the way," said Latasha Smith, a New Orleanian and self-proclaimed lifelong Saints fan. A lot of fans like Smith seem hopeful but others don't see the black and gold having a successful year. Uptown resident Bryan Goldman explained, "I enjoyed the high scoring affair between the Saints and Giants but I don't think this is our year." Goldman, like many in the City sum up their fear of their hopes being dashed by future performances by Saints' defense.
If this current 2015 New Orleans Saints team wants to make it into post-season and go far they will indeed have to play better defense, at least according to the stats. The Saints defense is one of the league's worst, as they are ranked second to last on most polls. The defense has tried to come on strong—creating turnovers and pressuring their opponents' Quarterbacks in the last three games.
For the Saints to maintain its winning streak in the next three out of four games, observers say they will have to start fast on offense and create more turnovers on defense. The Saints being a young team with the untapped potential of its players have fans hopeful that a burst of genius will sustain the team throughout the season. Key players Drew Brees, Marques Colston, and Kennan Lewis play a crucial role in inspiring younger plays to go all the way, fans say.
The Saints face the Tennessee Titans on Sunday, Nov. 8 and will be without running back Khiry Robinson. Robinson is out for the season, with a broken tibia. Robinson was a big factor for the Saints offense and fans say they are concerned about his loss. Meanwhile, running back C.J. Spiller will become more of an important role for this offense. With the Saints, Spiller has had two touchdown receptions for a record 196 yards. One of those touchdowns was an 80-yard catch to clinch an overtime victory over the Cowboys five weeks ago. Just recently, he made an important touchdown reception to tie the score late in the fourth quarter that helped the Saints get a win over the New York Giants.