Laying Down the Right Tracks
Alexia Pierre | 11/24/2015, 3:58 p.m. | Updated on 11/24/2015, 3:58 p.m.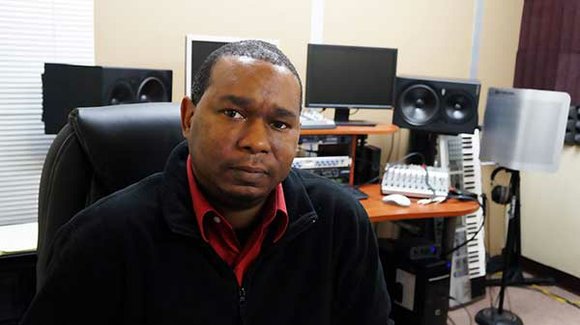 This column is a weekly feature taking Data News Weekly readers behind the scenes of the New Orleans gospel scene. We launch this column with a series on New Orleans gospel rap and rappers.
One of the secrets behind the growth of gospel rap is business-minded small producers scattered between New Orleans and Baton Rouge. These talented musicians perfect the sounds of local gospel rap artists at late night and weekend sessions. Their studios are the spaces that have created a network of performers who support each other's ministries by performing together or collaborating on tracks.
It's the producers like Victor "Vick" Smith whose helped gospel artists to find their unique sound, style and calling. Smith was introduced to music at an early age. He said his father was one of the lead singers at Jimmy Swaggart Ministries. However, Smith found his love for music in the seventh grade. He saw his first live concert for the band in his middle school then. The band was playing the original Batman theme song, but with a twist, he recalled. The characters for the Batman cartoon ran around the stage during the performance, he said. Prior to this performance, Smith said he wanted to be a scientist. A year later, he joined the school's band and played what he thought was an unattractive baritone horn. His band director presented Smith with a brand new baritone horn, which he could not afford, in front the whole class. It was the start of a new passion for him.
"From there, it was a no brainer that music was going to be a part of my life forever," Smith said. He now owns a gospel record label, Sanctified Sound, LLC in Baton Rouge, La, which he founded in 2003. He is a producer for artists from New Orleans to cities across the Gulf Coast who want to use their talents to minister to others through gospel music.
"I'm helping people fulfill what God has mandated them to do," Smith said. The label doesn't just support gospel rappers, but singers as well. Smith said that rap is just a tool for reaching the lost, he said. "The music is no more important than a t-shirt. A t-shirt is just like a CD. It has your message on it—it has the message God has placed in your heart," he said.
Smith said he was inspired to explore his musical talents for good. The songs "What Do You See?" by The Ambassador, of the group, Cross Movement, and "Controverse All Star" by Lil Raskull, were particularly transformative for him in making a decision to pursue gospel music.
Smith, who also produces his own rap songs, adds that gospel rappers are successful not because of the money or fame but because they get to "minister on stage." Christian rappers, he said, define success differently than how the television portrays it. "Our priorities are not trying to get the big house, the notoriety [or] trying to get on television," he said. Gospel rappers are trying to reach those that are on a "different level."