Mixing Veggies and Ornamentals
MG Calla Victoria | 9/17/2015, 10:19 a.m. | Updated on 9/17/2015, 10:19 a.m.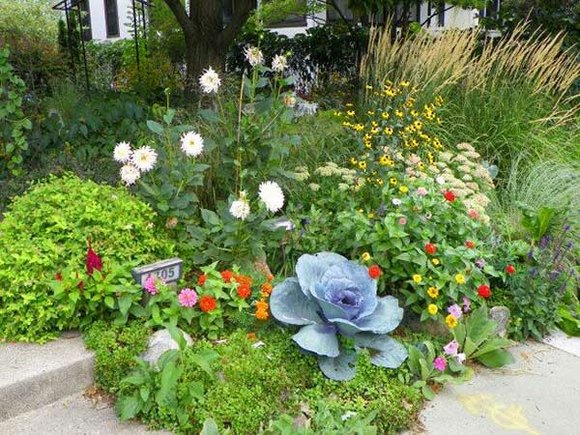 With the cool fall breezes thankfully upon us, it is time for a little pruning; Trim back your rose bushes by 50% to ensure thick healthy foliage and lots of blooms in November.
If you only have one or two rose bushes by all means use your pruners, but if you have lots of rose bushes use a hedge trimmer and get the job done.
You can prune most of your other shrubs as well, but be careful with camellias, as they have set bud for their blooms already, so you do not want to cut off your buds thus decreasing your blooms. This is also the best time for
planting trees and shrubs because, as the major growing season is over, the energy goes into building a strong root systems as the plant is not actively growing or blooming.
By all means make room from some cool weather veggies in your garden this fall. Arugula, which grows rapidly and is one of my favorite veggies, is a great cool weather crop. And if you let it go to seed, it makes the most beautiful delicate, intoxicatingly fragrant white flowers that are delicious in salads. Other cool weather crops to consider include broccoli, cauliflower, beets, cabbage, collars, mustard greens, lettuce, chard, and Pak choi (Bok choy).
You do not have to set aside a designated area for you veggies, they can be mixed in with the ornamental plant material. Most veggies thrive in the same conditions that roses thrive in, well-drained soil with full sun exposure. You can research "companion planting charts" online to find out what ornamentals work best with the veggies you want to plant. Edible landscaping is a good thing, and rapidly growing in popularity. There is nothing more gratifying than going out to your garden and picking fresh veggies for your dinner table.
Check out my "Gardening Tip of the Week" at www.thegardeningdiva.com
Remember, never get too busy to stop and enjoy the beautiful flowers!