Toya Barnes-Teamer Ph.D. Inspiration for Future Generations
Edwin Buggage | 4/6/2016, 10:39 a.m. | Updated on 4/6/2016, 10:39 a.m.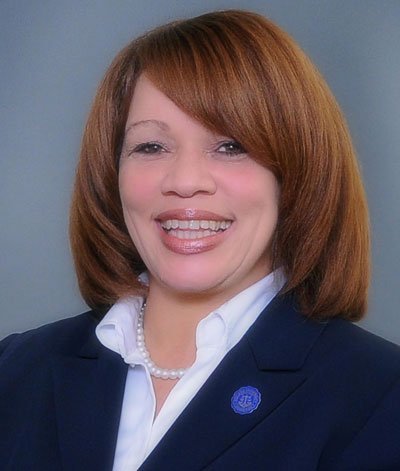 Toya Barnes-Teamer PhD is committed to giving back to her City. Coming from humble beginnings in the Lower 9th Ward, she says this is where the seeds were planted for her lifelong commitment to serving others. "My parents Emanuel Barnes Sr. and Dolores Barnes instilled in us to help those in need, in addition there were so many people who supported and helped me to get where I am, I feel it is my duty to give back," says Barnes-Teamer, who holds bachelor's and master's degrees from Loyola University and received her PhD in Higher Education Administration from the University of New Orleans. She has worked for over two-decades in higher education at both the university and technical college level. Barnes-Teamer feels that her experiences working with young people from different backgrounds has been fulfilling in seeing young people reach their goals. "I am always proud to see kids walking across the stage during graduation time. To see them work through whatever obstacles they face and to see them realize that hard work pays off, is a great feeling for me as they begin down the road to success."
She is committed to and on the frontlines in helping to solve many of the problems that faces the City of New Orleans. While she understands that much needs to be done to fix the City on the education and economic front, something she believes create situations where young people make bad choices; she feels solutions must start at home and the community level. "We have to stop pointing the finger at the schools because k-12 can only do so much, it is up to parents and the community to take up the issue of raising our young and again become a village in raising our children," says Teamer. "We need to have a more holistic approach to repair what I feel is a multigenerational problem in our community, we must not only engage our children but we must get better at helping families improve their quality of life."
For her service of helping others throughout her career she's received several awards including; being a two-time recipient of the Louisiana Community and Technical College System (LCTCS) President's Awards, one for exemplary leadership during the Hurricane Katrina crisis, and another for workforce development in the region. She was also selected by New Orleans City Business as one of its "40 under 40" individuals to watch in the community. Barnes-Teamer is appreciative of the recognition, but feels that giving back is her duty to her City helping in its rebuilding effort, "I remember after the storm, there were people who said with your credentials you can go and work somewhere other than New Orleans, and I told them I have to go back and help rebuild my City that's created the foundation for my life and shaped who I am," says Teamer.
Toya says she could not do all she's done in her life without what she calls her partner and best friend; her husband of over two-decades Roderic Teamer Sr. and the love of her three children Tai, Tia and Roderic Jr. "My family and my faith means a lot to me, from my immediate to my extended family, it's been important to me since I was a child and still is today as I raise my own children. I can remember walking through the 9th Ward as a little girl to St. David Church and our community being one where everybody was encouraged to succeed. And many of the people I grew up with are doing great things in the City." Today she is planting those same seeds in her children; her oldest daughter Tai, is a student at Loyola University and is part of the New Orleans Ballet Association (NOBA) and is involved with youth in the City teaching dance at NORD Centers across the City including Pete Sanchez Community Center in the Lower Ninth Ward. Her other daughter Tia is also a student at Loyola and is active in student media and her son Roderic Jr. is a student/athlete playing on the football team at Tulane University.
Toya Barnes-Teamer is a woman who is committed to empowering all the people of New Orleans, but she feels that African-Americans and their institutions and history is important in maintaining given the monumental changes taking place in New Orleans post-Hurricane Katrina. "Newspapers like Data News Weekly must continue because we need someone who can tell the story of African-American people of New Orleans. We need Dillard, SUNO and Xavier to continue to help educate the future leaders of our City and be part of the rich legacy of our City." Continuing she says, "But if we are to be the great City we can be it is about all people working together regardless of their backgrounds or race, and that is what my life is dedicated to trying to do my part in making our City great and inspire future generations."