George Curry, Black Press Champion, Dies at 69
The Journalist was Reviving the Award-Winning Emerge Magazine at the Time of his Death
Richard Prince | 8/20/2016, 9:48 p.m. | Updated on 8/20/2016, 9:48 p.m.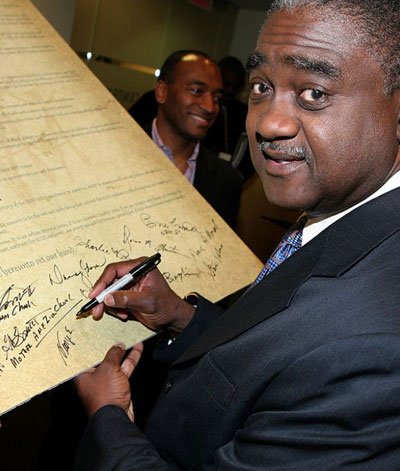 George E. Curry, a veteran journalist who championed the Black press and was reviving online his beloved Emerge magazine, died Saturday at 69, according to a message from his sister's Facebook account.
"It is with deep regret to inform everyone that my brother, George passed away earlier today," said the message, from the account of Christie Love.
"It was a shock to our family and we are dealing with the news, as best we can. R.I.P. brother George Curry." Curry lived in the Maryland suburbs of Washington, D.C.
Hazel Trice Edney, publisher of the Trice Edney News Wire, reported Sunday that Curry "died suddenly of heart failure.
"Rumors of his death circulated heavily in journalistic circles on Saturday night until it was confirmed by Dr. Bernard Lafayette, MLK Confidant and Chairman of the Southern Christian Leadership Conference shortly before midnight.
" 'This is a tragic loss to the movement because George Curry was a journalist who paid special attention to civil rights because he lived it and loved it,' Lafayette said through his spokesman Maynard Eaton, SCLC national communications director. . . ." Edney noted the popularity of his weekly columns in the Black press.
Curry was twice Editor-in-Chief of the news service created by the National Newspaper Publishers Association, trade organization for the Black press, but left in October of 2015.

He then turned his attention to creating an online version of Emerge magazine, for which he was Editor-in-Chief from 1993 until its final issue in June 2000. A GoFundMe drive had raised $16,088 of its $100,000 goal. The site posted eight articles on Friday.
Emerge was best known for its cover stories on Supreme Court Justice Clarence Thomas, one showing the justice sporting an Aunt Jemima knot and the second depicting him as a lawn jockey for the far right.
Curry wrote that the covers "were effective because in the minds of many Blacks disgusted with Thomas' voting record, that's exactly what he is. And we had the temerity to say it." Emerge aimed to be the political-magazine counterpart to Ebony, Jet, Essence and Black Enterprise.
"Emerge covered the most important people, topics, and turning points of this remarkable period in penetrating articles by an all-star cast of writers, including Nelson George, Les Payne, Thulani Davis, Ralph Wiley, Jill Nelson, Tananarive Due, and Trey Ellis," read a promotion on the cover of "The Best of Emerge Magazine," a 2003 collection that Curry edited.
Another standout was "Kemba's Nightmare," a 1997 account by Reginald Stuart.
It "was about an extremely sheltered, Straight-A high school student from Richmond who went to college and fell in love with a drug dealer," Courtland Milloy wrote that year in the Washington Post. "Arrested and convicted of conspiracy to traffic in cocaine, Kemba [Smith] — a first-time offender who prosecutors admit never actually touched the stuff — went to prison in 1995 under federal mandatory minimum sentencing laws for 24 1/2 years without parole. She was 24 years old. . . ."
Although he had left NNPA, Curry continued to champion the black press. Last month, he challenged a New York Times story on Black media, saying ownership, not customer base, is the relevant issue.