Trailblazer of the Year: Oliver Thomas
Edwin Buggage | 8/29/2016, 8 p.m. | Updated on 8/29/2016, 8 p.m.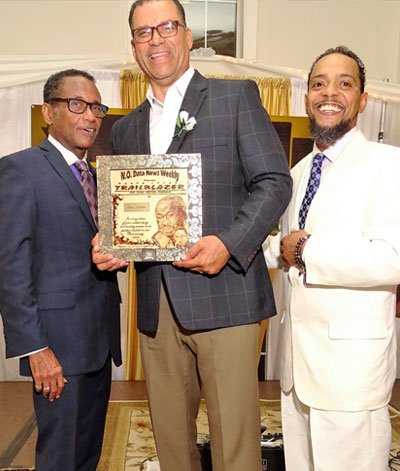 Data News Weekly recently celebrated its Golden Anniversary with two amazing events. The Annual Trailblazer Award ceremony and the Inaugural Golden Service Award Gala. As we do annually, we feature a profile on the Trailblazer of the Year. This year's recipient is a person who has come to embody service and the spirit of giving both as a public elected official and private citizen. Oliver Thomas has for several decades been committed to the greater good of all New Orleanians. "It was one of the biggest surprises of my life. I was honored to be one of the Trailblazers throughout the year, but I had no idea that I would be selected Trailblazer of the Year. It was a joy and a surprise," says Thomas.
Thomas' story is one of rebirth and redemption. He believes that more people need to honor those who've turned their lives around and deserve a second chance. "I was so surprised at winning the award, but it wasn't totally about me. I feel it was God selecting me because I am a believer and that it must have been about something bigger for me to do in my service to others. As honored as I felt there are so many men and women who've struggled and turned their lives around who deserve an opportunity and are out there and we have to begin to honor them."
Oliver Thomas has been part of a legacy of service for many years, today he has become part of a long tradition as member of African-American media, as host of the Good Morning show on WBOK 1230-AM. Where he imparts information about affairs important to the African-American community. "I was thinking about the importance of Data News Weekly and our African-American outlets in telling our story during the course of the ceremony and I've talked about it on the show," states Thomas. "Every week I encourage our audience to get a copy of Data News Weekly, the New Orleans Tribune and the Louisiana Weekly. It's so important because the articles that are there you are not going to get them any place else. And now I feel that Black journalist and Black media and Black publications are more important than ever."
He says he sees Data News Weekly and other African-American owned outlets as our modern Underground Railroad, charting the course and lighting the road to freedom. "I have been honoring all the Trailblazers on the show. I feel people need to know about these extraordinary citizens that are doing amazing things in our city. Something that I would hope may inspire them to want to dedicate some time to serve others." Then speaking of his radio program he says, "I try to use it to inform people and that is one of the biggest compliments I've gotten, is that it is a great community resource. I feel all the information that goes in my head that it is my job to go out and disseminate it for the community to use to become empowered."