Delaney's Armoire
Premiere of Liquid Geezus
Delaney George | 12/14/2016, 7:39 p.m. | Updated on 12/14/2016, 7:39 p.m.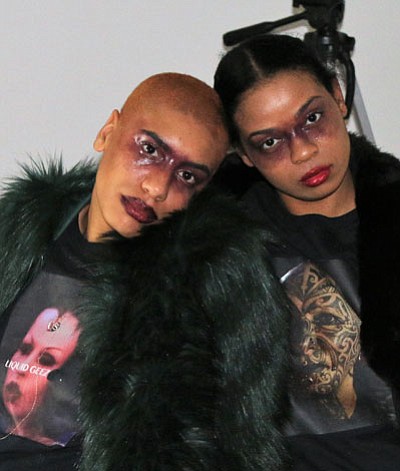 This past Sunday, a New Orleans Model, Musician, and Fashion Figure, Hirakish, held his first show and premiere of new his clothing line "Liquid Geezus".
The fashion presentation showed Hirakish's peculiar take on fashion, involving high fashion makeup on models, fur accents, and an array of unorthodox yet unique styles of garments: such as lace, sheer, and the unusual images on Hanasaki's T-shirt line.
Although the show only consisted of two models, the crowd stayed engaged by Hirakish's antics and style. The scenery of the show consisted of flashing lights, a customized Liquid Geezus screen, and a clothing rack with Hirakish's designs that were up for purchase. Electrifying mood setting music provided the entire night by local DJ Lil Jodeci. Hirakish also gave a live performance showcasing his musical side, showing how he interprets his brand and line through music.
At only 23 years old, Hirakish has modeled for lines such as Hood by Air, premiered in New York Fashion Week, and achieved a spread in W Magazine as one of Rihanna's leading male models just to name a few.
For more information on Hirakish and the Liquid Geezus line visit LiquidGeezus.tumblr.com or visit Hirakish on Instagram. More photos of the Liquid Geezus show can be found on Laneslense.Pixieset.com/LiquidGeezus.