Despite the haters, Black Santa Thrives at Mall of America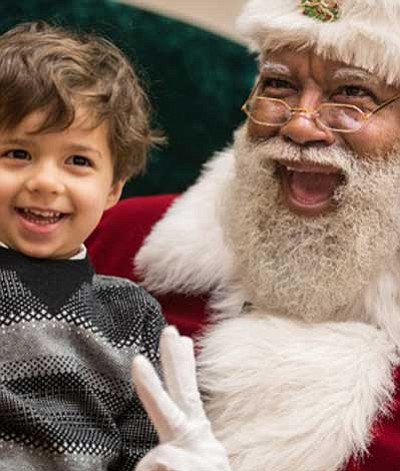 Many White Americans cling to the notion that major religious and cultural figures are and have been represented as Caucasian, according to one professor when asked about the controversy surrounding the Black Santa Claus at the Mall of America in Minneapolis.
"When this reality is disrupted, as in the case of Black Santa, it makes many White people uncomfortable, because it challenges a taken-for-granted religious cultural landscape whose substance is White privilege," said Adam Szetelaand, an assistant professor in the liberal arts department at Boston's Berklee College of Music who has penned op-eds, peer-reviewed articles and book chapters that deal with issues of race in America.
Still, the headlines have become as comical as the controversy over the Mall of America employing an African-American to portray Santa Claus.
"Racists Freak Out Over Black Santa At Mall of America," The Huffington Post screamed in its December 5 headline.
Even "The Washington Post" ran the curious headline, "The Mall of America's first Black Santa: Santa Comes in Many Different Colors."
And, not to be outdone, apparently concerned — or curious — headline writers trotted out this eye-catching banner for the "Minneapolis Star Tribune" on Dec. 13; "Is Mall of America's Black Santa Now all of America's Santa?
"
To critics — particularly those hiding behind screen names on social media — the answer is a resounding "No." The race rhetoric and much of the hate that permeated the recently completed presidential election campaign, has spilled over to the holly, jolly Christmas season.
"I don't understand why Santa would be Black. He is a White character," social media commentator Chris Guy wrote. "Just seems kind of racist to make him Black for the sake of having a Black Santa. I don't really care, but in our racially sensitive society, I don't see how this is considered okay," said Guy, who concluded with this gem: "O, the hypocrisy."
Another social media darling who called herself Laquisha Reynolds pointedly responded with, "I hope every self-respecting White parent does not take their children to this atrocity…this imitation of traditional White characters from television and movies to historical figures such as 'Hamilton' is a cancer that must be stopped," said Reynolds. "If [Martin Luther King] were played by a White person, Blacks would try to kill him."
If that bit of commentary weren't bad enough, many decided to remind Mall of America officials and others of Minneapolis' large Somali population and a September incident where a Somali immigrant stabbed shoppers at another mall in Minneapolis.
"I…fully expected that they would pick a Somali to play Santa," Victor Edwards wrote on social media. "Have a radical Muslim who hates America and the western world play Santa. Give him a gun and some knives under his red suit."
Others, however, were thrilled about the Black Santa Claus.
"I thought it was good what the Mall of America did and I support that," former pro basketball star Baron Davis said in a statement.
"I support all Santas, of all colors. There are a lot of people in this world that enjoy conflict," said Davis, who in November founded "The Black Santa Company," which aims to create diverse heroes and role models through the art of storytelling.