The Holiday Season in New Orleans
A Special Time of the Year in America's Most Unique City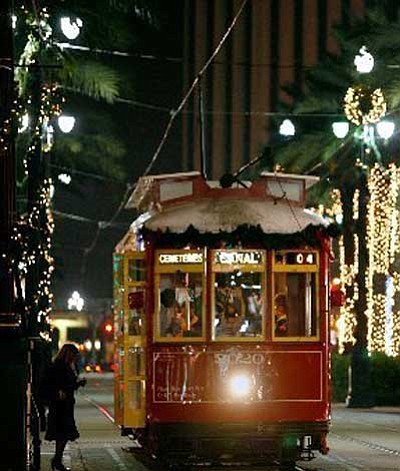 In the Spirit of the Season
While in other parts of the country people are singing Christmas Carols in the traditional way; in New Orleans, the dissonant sounds and melodies of a Brass Band playing Silver Bells as revelers second line; dancing the night away is a common sight. Or the signature dish of Ham at dinner is replaced by Gumbo, with its many different ingredients creating a dish that is pleasing to the palate that's symbolic of rich cultural mosaic of the people of New Orleans. These are only a few examples of the things that make America's most International City unique every day but are on full display during the holiday season; one that is filled with food, music and fun.
New Orleans Joins the World Stage Bringing in the New Year
This year is no exception, but what is different is that the Crescent City will be on full display for the world to see as New Orleans will be included in Dick Clark's New Year's Rockin' Eve. Mark Romig, is the CEO of the New Orleans Tourism and Marketing Corporation (NOTMC) they also publish an Annual Holiday Guide of many things that are happening during the six-week celebration of the holidays in New Orleans. It includes holiday traditions, hotel deals, Reveillon dinners at local restaurants, cocktail happenings, also free events and attractions.
This year there are many great holiday events going on around the Crescent City.
"New Year's Eve is consistently named as a top ten destination by a number of publications throughout the world. This year, both ABC's Dick Clark New Year's Rockin' Eve will broadcast live from New Orleans as well as on CNN. There is a giant party at Jackson Square with a Fleur di Lis Ball Drop at midnight and fireworks. All over the City, people will enjoy our famous food at our beautiful restaurants and head for the French Quarter to ring in the New Year. It has the same excitement as Times Square," Romig told Data News Weekly.
While New Orleans have always been a World Class City drawing people from across the globe every year to sample the "Je na sais quoi" that embodies the essence of the rich culture and heritage of this great City lying at the mouth of the Mississippi. Post-Katrina the profile of the City's been raised with new people coming to live in the City, in addition to many television shows and films being shot in New Orleans. Something that's helped increased its exposure and marketing the City in new ways. It could be argued that these are contributing factors to why "Dick Clark's New Year's Rockin' Eve" chose New Orleans as one of its cities to broadcast from.
"Coverage like this helps us to reinforce to America what a versatile City we are. It alerts people to a place they can share the holidays in a temperate climate, with traditions they learn about, and with something for everyone in the family. This is the first year the Dick Clark New Year's Rockin' Eve has joined us but I predict ABC will be back when they see how much revelry and fun we offer. Also, CNN has joined us for at least five years," remarks Romig of the City's appeal.