Celebration in the Oaks, a three-decade holiday tradition
Terry Jones | 12/27/2016, 1:58 p.m. | Updated on 12/27/2016, 1:58 p.m.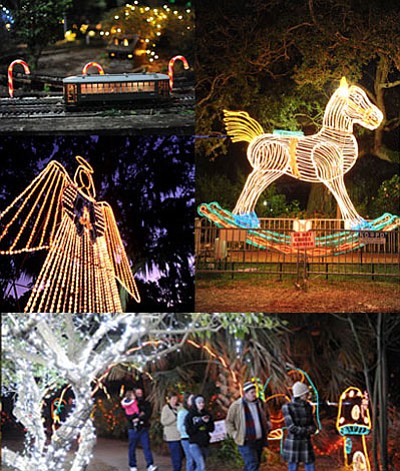 Celebration in the Oaks now a trademark for families has turned 30 this year. The annual holiday light display in New Orleans' City Park opened to the public on Thanksgiving Day and will remain open until Jan. 1. This lighting extravaganza began in 1987 with glittering lights hanging from the limbs of City Park's picturesque oak trees. This soon became a sensation to tour the rambling lightscape in the center of the city. By 1990, this outstanding display, then called Christmas in the Oaks, drew over 350,000 visitors to the park each year.
Royal Benetrix, 63, is the man behind the lights. He has been with Celebration of the Oaks from the beginning in 1986. He's the creator of the famous Milky Way structure that bejeweled the park. Along with his crew of six, plus volunteer assistants, the team doesn't begin installing the lights until the very end when all the structures are in place.
"The final three weeks before we open are very intense, non-stop," Benetrix said. "Failure is not a option."
Celebration in the Oaks is designed as an electrified toy chest of giant glittering playthings. A few signature light sculptures, such as the rocking horse, an antlered alligator and a fish-gulping pelican, were custom-made by artisans hired by City Park over the past 29 years.
"For five years straight my family and I made this place our Christmas tradition," said Crystal Louis, a resident of Vicksburg, Mississippi. "My two younger daughters Hailey and Rachael love the rides; and my husband and I love the hot coco and atmosphere."