Inspiring the next generation of African-American doctors
Tour Scheduled to Stop in New Orleans on February 12th and 13th at Xavier University
Terry Jones | 2/11/2016, 11:17 a.m. | Updated on 2/11/2016, 11:17 a.m.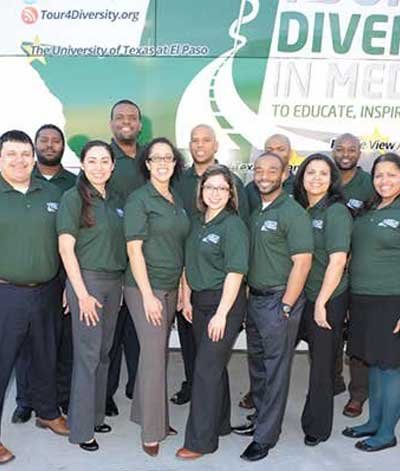 The numbers of underrepresented minorities in medical schools are alarming. Although African-Americans comprise more than 13 percent of the U.S. population, they account for only 4 percent of practicing physicians, according to the Association of American Medical Colleges (AAMC). The lack of African-American's pursuing careers in medicine creates many problems for a nation in need of doctors to work in medically underserved areas.
This trend could worsen access to care in low-income communities, because African-American medical students are likelier than any other group to have a firm commitment to practicing in underserved areas. Unless the current trend is reversed, our country will see a growing ethnic and racial disconnect between those who receive care and those who provide that care.
Tour for Diversity in Medicine is a unique and rather innovative non-profit organization that is addressing this issue head on. Tour for Diversity in Medicine's goal is to inspire and cultivate the next generation of African-American doctors.
How the tour works
Twice a year, Tour for Diversity in Medicine recruits a team of top minority doctors to travel by bus across the nation, touring schools to mentor minority students headed to medical school. Each bus tour covers thousands of miles visiting high schools, colleges and universities. The tour targets specific geographic areas with students from disadvantaged backgrounds, lower-income families and those who are underrepresented in medicine, offering them mentoring and support.
Since its inception 4 years ago, Tour for Diversity in Medicine has traveled over 5,000 miles and reached more than 2,000 students in 19 states and Washington, D.C., providing students positive mentoring from doctors who come from similar backgrounds.
Each stop consists of a full day of workshops on various topics, including medical school application process, admission tests, financial aid, interviewing skills, and an overview of health disparities. The sessions aim to prepare students for the many challenges they might face on their journey to medical school.
Tour for Diversity in Medicine was co-founded by two phenomenally accomplished young doctors, Dr. Alden M. Landry, an emergency medicine physician from New York, and Dr. Kameron Matthews, a Chief Medical Officer from Chicago, and grew out of the need to erase uneven health outcomes for racial and ethnic minorities.
"To be recognized as role models and mentors for thousands of students is something we're proud of and don't take lightly. For a student to actually meet in person someone who has achieved the dream they aspire to reach, that becomes a life changing moment." says Dr. Matthews.
"At every stop we meet students who believed they couldn't overcome perceived barriers of entering the healthcare profession, only to meet with one of the doctors who empower them with knowledge, resources and support to succeed. These same students will make a tangible difference for themselves and their communities by pursuing a career in medicine." says Dr. Landry.
Mr. Jones:
I'm writing to inform you of an organization that would be a great subject for a story in the Data News Weekly. The inspirational cross country journey of two young African-American doctors, who impelled by the growing shortage of African-American doctors and its direct correlation to health disparities in underserved and low income communities, created an organization that has encouraged thousands of students to pursue a career in medicine, empowering them to become agents of change and the next generation of doctors who serve their own communities, including those in New Orleans and Baton Rouge.
Their organization, Tour for Diversity in Medicine, is a grass roots organization comprised of a team of top minority doctors who voluntarily travel to high schools and colleges throughout the nation inspiring, educating, and cultivating future minority physicians and dentists. The pursuit of their goal has seen the organization travel by bus over 5,000 miles and engage thousands of students, as a means of combating health disparities in underserved communities.
Tour for Diversity in Medicine is set to embark on the next leg of its tour, with stops in New Orleans on February 12th and 13th at Xavier University. To learn more visit www.tour4diversity.org.