Parading Ladies, Large and In-Charge
Tatyana Aubert | 1/26/2016, 8:41 a.m. | Updated on 1/26/2016, 8:41 a.m.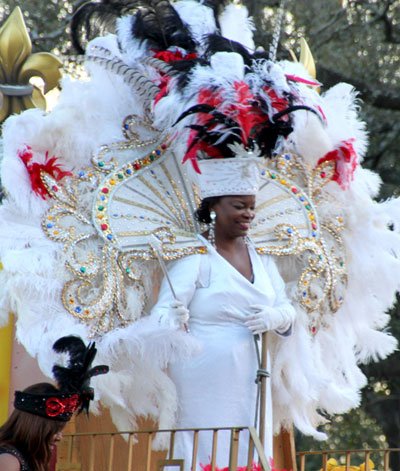 Parade goers will spot them by their colors: candy apple red, black and white. The Mystic Krewe of Femme Fatale will be hard to miss this year because they are a primarily Black, female krewe. Femme Fatale will make their second appearance on the Mardi Gras scene on Sunday, Jan. 31 when they roll from Uptown at 11:00 am. Although only stepping out last year with a krewe of roughly 300, Femme Fatale, which was founded in 2013, now totals some 500 members. The krewe saw entering the parades as a way to showcase both the power and impact that women of color in particular, have in the City all year round.
"It's time for an all female minority krewe to arrive," said Joan Cooper-Rainey, the Mystic Krewe of Femme Fatale 2016 Queen, Joan Cooper-Rainey. Cooper-Rainey, who is not only a registered and forensic nurse, is also one of the several founding members, Parliamentarian, and chair of fundraising. Rainey said she believes that her krewe is an answer to having more options for women during Mardi Gras season.
Although the majority of the krewe are minorities, Cooper-Rainey said they welcome women of all races and colors. To join the krewe, applicants must be 21 or older and must also apply online. To date, Femme Fatale members comprise a diverse roster of professional women that are not only from New Orleans but are also from California to and cities like Atlanta, Georgia.
The krewe's founding team reflect a professional mix that includes Cooper-Rainey, Gwendolyn Rainey, Lisa Diggs, Kimberly Early, Dr. Takeisha Davis, Sharlayne Prevost, Catherine Phipps, Michele Hayes, Ann Marie Allen, Yvonne Grubbs, and Division B Regina Bartholomew Woods.
Last year, obtaining a permit was the biggest challenge that the krewe faced but putting together the parade was much easier, Cooper-Rainey said. For their debut last year, the krewe had less than six months to put together a parade but were confident that their debut was well-delivered. The krewe expects for parade-goers to witness another fabulous parade.
This year the krewe's theme will be "The Mystic Krewe of Femme Fatale visits Theme Parks." The floats are decorated by Blaine Kern Artists who highlight the krewe's recognizable colors. Mystic Krewe of Femme Fatale will throw their infamous designer ladies compact and red plush lips to parade-goers. The mirrored compact symbolizes a constant inward and outward reflection, organizers said. The parade will consist of 12 bands and assorted dance and marching groups. Parade viewers will also witness 15 floats depicting popular theme parks such as Sea World, Magic Kingdom and many more.
"The theme is meant as a tribute to families having fun in various theme parks such as Magic Kingdom, Epcot, Sea World just to name a few," Cooper-Rainey said.
Last year's theme was titled "The Mystic Krewe of Femme Fatale remembers Hollywood Horror Classics." This year's theme, organizers said has a community feel that celebrates family and fun.
"It is an honor to be able to make a difference in the community," said Gwendolyn Rainey, one of the founders on the work that the members do as part of their jobs and other charitable ventures. The krewe hopes its entry onto the Carnival scene will help support the work they do and attract more women to investing in the community with their expertise and time. When Mardi Gras wraps, the Mystic Krewe of Femme Fatale will direct its attention to the community outreach programs, cancer walks, Counsel on Aging, and school supplies give-aways that comprise the year-round work the members do.
"The MKFF organization's mission is to offer women of all creeds and colors a unique opportunity to promote and support New Orleans' cultural landscape, while uplifting the community," said founder Gwendolyn Rainey.