Louisiana Delegation Rocks the House at the DNC
Data Staff Edited Report | 7/25/2016, 5:27 p.m. | Updated on 7/25/2016, 5:27 p.m.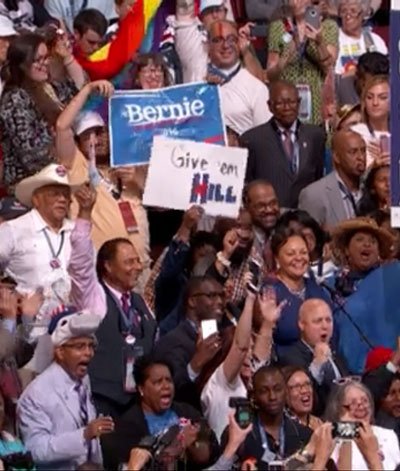 Louisiana Democrats at the Democratic National Convention in Philadelphia on Tuesday "rocked the house" as the group proclaimed proudly that our state cannot and will not be defined by Hurricane Katrina or the police murder of Alton Sterling or the deadly officer shooting that shook Baton Rouge two weeks ago.
As state party chairwoman and New Orleanian Sen. Karen Carter Peterson stated, "We will not be defined by any natural disaster nor will we be defined by any act of senseless violence because we are one Louisiana," during the traditional DNC roll call of states. "Louisiana knows that love trumps hate."
Peterson, before announcing the vote tally (45 votes for Hillary Clinton, who would go on to win the Democratic nomination and become the first female presidential nominee of a major party, and 14 for U.S. Sen. Bernie Sanders, who had already conceded the race), also managed to plug Cajun and Creole cultures, Louisiana's distinct cuisine, hunting traditions and Mardi Gras celebrations.
Included in the crowd of delegates were New Orleans Mayor Mitch Landrieu; former U.S. Sen. Mary Landrieu; state Reps. Pat Smith, Denise Marcelle, Ted James and Marcus Hunter; and state Sen. Troy Carter, among others -- nearly all cheering and waving signs.
Gov. John Bel Edwards, who serves as a superdelegate to the DNC, didn't appear to take a center position during the state's roll call on Tuesday.
The state Democratic Party posted a photo Tuesday morning of Edwards casting his ballot. Edwards, a Democrat who took office in January, said during the run up to Louisiana's primary that he was supporting Clinton's candidacy.
The delegation also has in its group, Frederick Bell as the youngest of Louisiana's 59 voting delegates at the Democratic National Convention.
The 18-year-old, who graduated two months ago from a high school in St. Gabriel, will vote Tuesday to officially make former Secretary of State Hillary Clinton the first female presidential nominee of a major party.
"I'm going to participate in history," he said.
The Delegation hopes to grab hold of momentum gathered from this week's convention in Philadelphia, returning home to invigorate the party activists to participate in the Nov. 8 election, even though Louisiana has voted for every Republican presidential candidate since 1996.
Though early polls show GOP nominee Donald Trump leads in Louisiana, State Sen. Peterson argued that his divisive rhetoric scares some moderate and Republican voters. "We're definitely in play," Peterson said.