Xavier University Hosts Annual Mardi Gras Indian Camp
Kaelin Maloid | 6/6/2016, 5:06 p.m. | Updated on 6/6/2016, 5:06 p.m.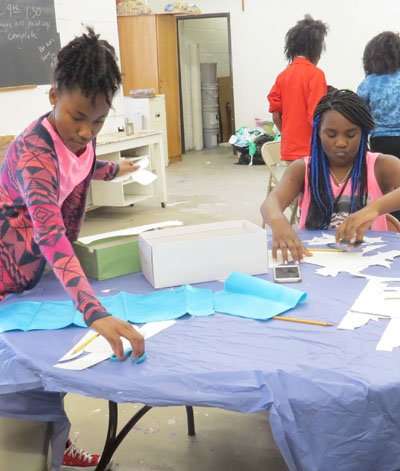 The Mardi Gras Indians Arts Summer Program is a summer camp for 11- 15-year-olds that is designed for them to study the tradition of "masking" for the Mardi Gras Indians.
"The significance of the Mardi Gras Indian culture and grassroots culture in New Orleans in general is chaining—it brings communities together, it talks about survival of people," said Xavier Arts Professor, Ron Bechet.
The summer program started in 2007, as an initiative of the Community Arts Program of the Department of Arts at Xavier University of Louisiana. The program last eight weeks and allows students to study both the "Downtown" and "Uptown" styles of their costumes. Big Chief Darryl Montana of the Yellow Pocahontas Mardi Gras Indians will represent the "Downtown" style, and Council Chief Walter Landry of the Golden Blades Mardi Gras Indian tribe will represent the "Uptown."
"Each summer, we hold it for this particular age group because many people see Mardi Gras Indians and don't know what it means, where it came from, and how important it is to bring community together," Bechet said.
The camp is held at Xavier University of Louisiana, a significance not missed on Bechet.
"To have it here at Xavier, to promote this activity of what people have done for a lot of years to a new generation is really important," Bechet said.
Having the camp at Xavier was not by accident. According to Montana, he wouldn't want to have the camp at any other place.
Montana said that his relationship with Xavier went back "anywhere from 23 to 25 years" when he was working at a charter school. It was through the CAP Program in 1997 that Montana ended up having a relationship with Xavier. Prior to that, he didn't know any other universities that accepted that program. He started working with the kids at the charter school first, and then when Xavier started a summer camp the kids could work at as well.
"Now-a-days, I think most—a lot—of the universities want to jump on the bandwagon, but Xavier University was first," Montana said.
Inside the art village, where the camp is located, the students watch videos, listen to lectures, and converse with guest speakers. Using a hands-on approach, the students will create an element of the Mardi Gras Indian costumes. The instructors will help the students develop the skill they need for designing, drawing, sewing and beading for their art forms. While learning these talents, the students will also rehearse songs and chants and learn about the tribal culture.
Taylor Sanders, a co-teacher at the camp and former camp participant, would say that the camp was "definitely successful."
Sanders said that participating in the camp have given her a bigger appreciation for the City that she lived in and the culture she was a part of. Prior to the camp, she had never looked at the Mardi Gras Indians making as an art form, but, afterward, she understood that it was a real art and science that went into building their costumes.
She also added that she came back as a co-teacher because, "It feels familiar. It's a happy environment. I want to work where it feels good, where I feel happy."
At the end of the camp, the students will showcase their knowledge and skill with a showcase at Xavier University.