Sybil Morial's Memoir
Eric Craig | 6/13/2016, 7:49 p.m. | Updated on 6/13/2016, 7:49 p.m.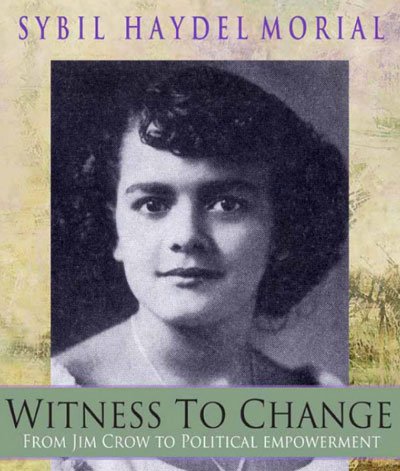 Eight months later, and it is still one of the best decisions that she made.
On October 6, 2015, Sybil Morial, wife of the late Dutch Morial, unveiled the first book she has written called "Witness to Change: From Jim Crow to Political Empowerment." While it has been eight months since the book was originally published, Morial is still experiencing the never-ending buzz over her 256-paged memoir.
"Witness to Change: From Jim Crow to Political Empowerment" is a memoir written by Sybil Morial that revisits moments in her life that have defined The Black Experience for her and the communities around her.
The book covers several monumental political points, such as her meeting Dr. Martin Luther King Jr., experiencing the effects of Brown v. Board of Education, her experience in politics with her late husband Mayor Dutch Morial, the effects and relapse of Hurricane Katrina and many other politically charged events.
Morial's goal when writing this piece was to add to the first person literature available that describes the Black perspective in the Civil Rights Era, especially in New Orleans.
Morial began writing the book after she was displaced by Hurricane Katrina. Posted in Baton Rouge, Morial realized how much she had lost. Her house was destroyed by both fire and flood water.
Much of the memorabilia that highlighted her past was destroyed during the storm. However, Morial said that she did maintain one thing, he memories.
Morial began to write down stories as a form of therapeutic exercise and did not plan for it to eventually become a memoir.
"The writing healed me. The flood was a devastating the experience, but the exercise of writing it was cathartic. It has given me a new challenge after my retirement," Morial said.
After enrolling in a creative writing class and a memoir class, Morial was soon inspired to start compiling her stories into a memoir.
"'This was the first time I have written anything for the readers or for publishers," Morial said.
"I have done reports, press releases and all sorts of factual writing. This is different. This is something where I told a story and they wondered what next, what next," she said.
Morial said that her professor helped her transition to this new form of writing, assisting her in how to use dialogue and facts to enhance the story.
It took Morial six years to write and publish her book.
While Morial has worked hard to make her story available to the public, she noted that it was a difficult task to start.
"People around the City and beyond have asked her how I did it, how I found a publisher," Morial said.
"I had talked to several agents and I was rejected by two. One was too large, a high profile business that published books by Hillary Clinton. So I wasn't in that league," she said.
Morial said that while she was rejected by publishers, they left her useful comments that she ended up using to make the final copy of the book.