Black and Hispanic Press Join Forces on Capitol Hill
Terry Jones | 3/15/2016, 12:33 a.m. | Updated on 3/15/2016, 12:33 a.m.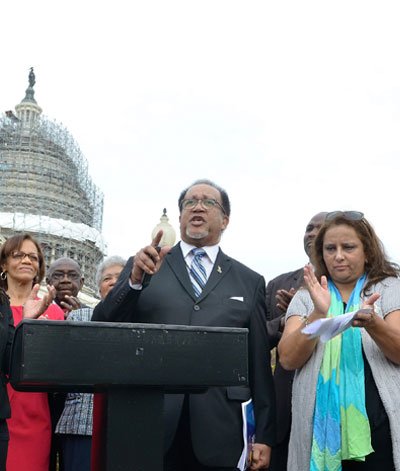 The National Newspaper Publishers Association (NNPA) and the National Association of Hispanic Publications (NAHP) have joined together to form a national strategic alliance. We are pleased to assemble on the West Front of the U. S. Capitol on Friday, March 11, 2016 at 9:30 AM and to be joined by Congresswoman Eleanor Holmes Norton (D-DC).
The NNPA, the leading non-partisan trade association of the more than 205 African American-owned community newspapers throughout the United States, along with the NAHP, a non-partisan trade advocacy organization representing the nation's leading Spanish-language publications, have a combined total reach of over 43 million readers per week across the United States.
"With close to 97 million African Americans and Hispanics in the U.S. today, representing 33% of the total population, this consumer segment demands attention," said Martha Montoya, VP of the NAHP. "The buying power of the African-American and Hispanic communities, currently at over $2.3 trillion combined, continues to outpace the national average."
"This historic media alliance is a gigantic step for our two organizations," said Dr. Benjamin Chavis, President and CEO of the NNPA. "We believe our working together has tremendous potential mutual benefits in today's marketplace. We are grateful that Congresswoman Eleanor Holmes Norton will ask the General Accounting Office (GAO) to conduct a timely research and to issue a report on advertising contracting and subcontracting with African American and Hispanic American-owned newspapers and media companies by all federal agencies. We salute and appreciate Congresswoman Norton's leadership and service to our communities."
"This task force also marks a historic partnership between the NNPA and NAHP, the nation's most influential publishing organizations that are currently led by women. Martha and I have a shared vision and commitment to empower our communities by strengthening the voices of the media we serve," said NNPA Chair Denise Rolark Barnes.
The NNPA and the NAHP will also launch a massive nonpartisan national Get-Out-The-Vote (GOTV) campaign for the remainder of 2016 to increase civic participation in our mutual communities.