Tyler Perry Hosts Passionate Televised Performance on Palm Sunday
Eric Craig | 3/21/2016, 10:36 a.m. | Updated on 3/21/2016, 10:36 a.m.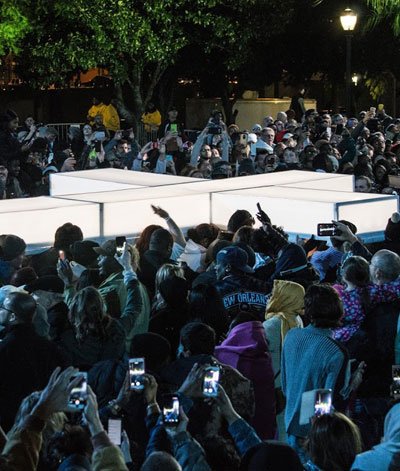 The city kicked off the Easter holidays with a Palm Sunday live televised performance on March 20, 2016, at Woldenburg Park. The theatrical event, which aired on Fox, was adapted from a Dutch franchise by Dick Clark Productions and Fox.
"The Passion" depicts a modern take on the last few hours of the life of Jesus Christ. The event was hosted by Tyler Perry, and featured musical artists Seal, Yolanda Adams, Trisha Yearwood and more.
The performance also featured a live processional where hundreds of participants carried a 20-foot cross from the Mercedes-Benz Superdome to Woldenburg Park.
During the performance, Perry, a native of the Third Ward, mentioned the producers chose to host "The Passion" in the city of New Orleans because of its resiliency after Hurricane Katrina. As Jesus Christ was resurrected, so was New Orleans, Perry said.
Crystal Mclin, an attendee from Mississippi was excited about the event.
"I hope to see Yolanda Adams, Seal and Chris Daughtry. I love to see anything musical. I like the fact that Tyler is bringing this back to this city, where he's from," Mclin said.
As the crowd lined up to see "The Passion," the onscreen talent were preparing for the show.
Actor Oscar Gale, casted as one of Jesus' 12 disciples, appreciated the energy and work that went into the production of "The Passion."
"It's really hard to believe the magnitude of this event from the production to the stage, and considering everything it takes," Gale said.
" It's incredible to think about how this started in Holland, and now we're seeing it here in the United States," he added.
Parker Mulherin, a choir member of the live performance noted the grand scale of the production.
"It's a great group dynamic, and everybody is trying to make sure it looks good. The whole production is grandiose and its great to be a part of this," Mulherin said.
The contributors all shared how they were excited for a production like this to be hosted in New Orleans.
"To think they could have picked any city in all of America to film this, but they picked New Orleans and that's an incredible thing. New Orleans as a whole is just such a resilient city," Gale said.