Head of NFL officials explains ruling on kick block, 2-point return in Saints' loss
Kermit Williams Jr. | 11/14/2016, 4:28 p.m. | Updated on 11/14/2016, 4:28 p.m.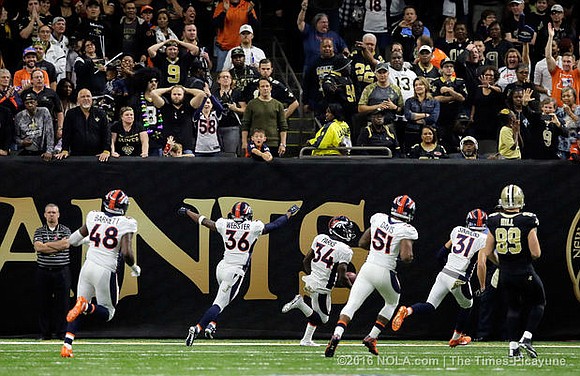 The Denver Broncos did not commit a penalty on the block of an extra point that would have given the New Orleans Saints a 1-point lead late Sunday, but there was no clear way to tell if the returner stepped out of bounds on his 2-point return, the head of NFL officials said.
"It's very close," Dean Blandino said in a message posted Sunday to Twitter. "Looks like the foot could be out there. White shoe, white sideline. Very difficult to tell."
The explanation came hours after the Saints' 25-23 loss decided on the 84-yard return of a blocked extra point by the Broncos' Will Parks, who drifted toward the sideline and put his right foot close enough to the boundary line for Saints players to shout in protest that he stepped out.
Upon review, the referee determined the on-field call that Parks stayed in bounds would stand.
"If there's green between the foot and the sideline, we need (a camera) looking right down the line from either end zone," Blandino said. "That's going to be your best look. Unfortunately, we just don't get that look."
On the block of the kick that would have put the Saints ahead with 1 minute, 22 seconds left, Blandino said the Broncos' Jared Crick used a legal open-hand push of Saints long snapper Justin Dres