Bayou Classic Returns to New Orleans Nov. 22-26, 2016
Several Events, Entertainment for Everyone
Eric Craig | 11/16/2016, 5:39 p.m.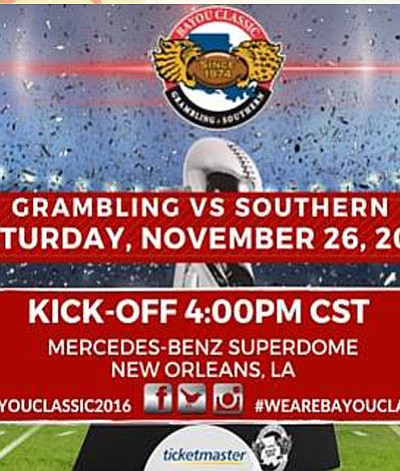 The classic college football rivalry between Shreveport, LA and Baton Rouge, LA makes its way back to New Orleans next week.
Between Nov. 22, 2016 and Nov. 26, 2016, the 43rd Annual Bayou Classic will take place all over New Orleans. This year's Bayou Classic Week locations will range from Joe Brown Park and Harrah's Casino, to the Mercedes-Benz Superdome.
The Bayou Classic is the second most viewed HBCU Football Classic in the nation. Last year, the 42nd Annual Bayou Classic Game Day had more than 200,000 viewers nationwide, 63,000 attendees, and the events brought over $50 million into the City of New Orleans.
Bayou Classic
The Bayou Classic is a sports rivalry between Grambling State University and Southern University. The Bayou Classic hosts a series of events that are entertaining, encouraging to the growth of HBCUs, and empowering to social organizations and causes.
This year's theme for the series of events is "Bayou Classic for Me and You - The Powerhouse of HBCU Classics," which encourages attendees to express unity towards the rivaling schools, as well as to encourage non-football lovers to join the events. While the Bayou Classic approaches 43 years, it has been held 25 out of 26 games in New Orleans since 1990.
A New Mobile Application
This year, the Bayou Classic is releasing a mobile app to aide visitors with navigating the event.
The mobile application will have a news feed to keep viewers up to date on HBCU, event news and status updates, locations and times of the event, and the ability to vote best Greek and Most Valuable Player during the events.
Bayou Classic Events
The 43rd Annual Bayou Classic will have eight separate events, ranging from expos to Game Day, featuring both Grambling State and Southern University.
The events start on Nov. 22, 2016 with the Kick-Off Press Conference.
On Wednesday, the Bayou Classic will have Family Unity Day from 11:00 a.m. to 5 p.m., and it is free to the public. The Family Unity Day will feature joint news updates from Data News Weekly and Cumulus Radio.
Thursday, at 3:30 p.m., is the Thanksgiving Day Parade, which will span from the Mercedes Superdome to the French Market.
On Friday, at 11:00 a.m., is the Bayou Classic College & Career Expo, which will be located at the Hyatt Regency Hotel. Later that day is the Greek Show, which starts at 5 p.m., and Battle of the Bands, which starts at 6 p.m., at the Mercedes-Benz Superdome.
Saturday is the 43rd Annual Bayou Classic where the Grambling State Tigers and the Southern University Jaguars face off for a final match.
Tickets
Tickets for non-public events will be available through ticketmaster.com, or by calling 800-745-3000. Tickets are also available through Grambling University and Southern University's box offices.