Doc Griggs Corner
How to turn a gumbo from unhealthy to healthy
Eric Craig | 11/16/2016, 5:53 p.m.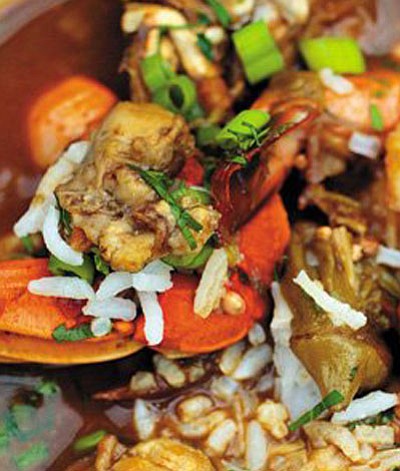 Gumbo, the stew of the south. The history of the gumbo can be dated back to the early 19th Century cooking. It combines the vast ingredients of different cultures into the perfection of soup of flavors. Gumbo typically contains a mixture of meats, vegetables, spices, and a thickening ingredient, these can include roux, okra, or filé powder. You can easily overdo on the ingredients and turn a delicious healthy gumbo into one that's unhealthy, this can lead to different health problems if not corrected, including high body fat, high blood pressure, and can lead to high blood sugar.
Let's take a look at some typical gumbo ingredients. Whole chicken breasts, oil, salt, and white rice that are served on the side. These ingredients are the main problems that can turn a healthy gumbo to an unhealthy one. By removing the skin and fat, and cutting down on the amount of oils and salt used in your typical gumbo, you make the gumbo healthier without sacrificing the deliciousness of the gumbo. If you prefer rice with your bowl of gumbo, I suggest replacing it with brown or whole wheat rice which are much healthier and better for your body.
References
"Cholesterol: MedlinePlus." Cholesterol: MedlinePlus. N.p., 12 May 2016. Web. 28 Oct. 2016.
Folse, John D., and Craig M. Walker. Something Old & Something New: Louisiana Cooking with a Change of Heart. Gonzales, LA: Chef John Folse, 1997. Print
Shen, Kuo-Ping, et al. "Pre-Germinated Brown Rice Prevented High Fat Diet Induced
Hyperlipidemia Through Ameliorating Lipid Synthesis And Metabolism In C57BL/6J Mice." Journal Of Clinical Biochemistry And Nutrition 59.1 (2016): 39-44. MEDLINE Complete. Web. 28 Oct. 2016.
Web. 28 Oct. 2016.