Trump's Win One Week Later
A Young Person's Perspective
Eric Craig | 11/16/2016, 5:36 p.m. | Updated on 11/16/2016, 5:36 p.m.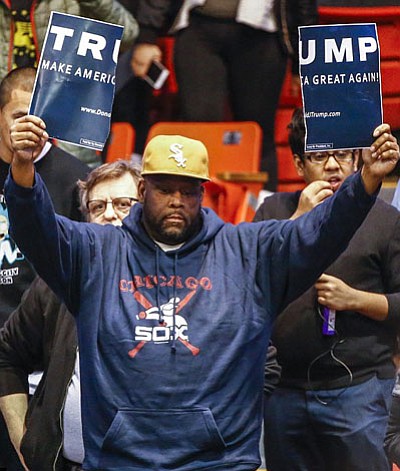 Sad. Disappointed. Angry. On early Wednesday morning, Nov. 9, 2016, the world stood quiet as Donald Trump announced he was the nation's President-elect. No one could believe it. After many political pollsters and pundits predicted Hillary Clinton's victory as a hole-in-one, half of the nation was confused when fact said otherwise.
One week later, the nation is still in unrest. Anti-Trump protest have infected several cities throughout the United States. New Orleans in particular had four days of Anti-Trump protest.
If there was one thing clear, many Americans were unhappy with their 2016 president-elect.
As protests affected cities, the election results began to finalize. While Trump won the electoral college 290 votes to Clinton's 232, he lost the popular vote by over 1.2 million.
As the country remains virtually split on its presidential candidate, young people in New Orleans offer their perspective on President-elect Trump.
Trump is President?
Social media trends showed many Americans were unhappy with Trump's victory. #NotMyPresident and #TwitterBlackout were two of many hashtags used to voice solidarity between anti-trump supporters. On the other end, #DrainTheSwamp was the uniformed hashtag used to unite Trump supporters in the president-elect's quest to make Washington great again.
While the fight took place on social media, others remained concerned about the election.
"I'm a little scared," said Ashlee Hill, a 22-year-old college graduate.
"It's not him being elected that's scary, it's the people that elected him. This silent majority group supported racism, bigotry, the wall, and Muslims not being able to come in the country," she added.
According to the FBI, hate crimes increased by seven percent nationally after Trump, coordinating with Trump's growing campaign.
"My main issue [with Trump] is that he has normalized hate speech and some of his followers have turned it into hate crimes. That's where my fear is," said 21-year-old Alana Peck, a graduate student at LSU.
"Even though I have a serious issue with him as president, he has caused America's day-to-day social climate to deteriorate," she added.
The Electoral System
On Change.org, a website that hosts several online petitions, 4.3 million people signed a petition to urge electoral college members to cast their votes for Hillary Clinton instead of Donald Trump.
Is it possible? According to factcheck.org, it's constitutionally doable. But is it likely? No.
Clinton, much like Al Gore in 2000, won the popular vote but lost the presidential election. In the end, people feel as the electoral college disenfranchises many voters, making their votes not count.
"Our electoral college, I feel, is obsolete and no longer necessary," said Jendaya Bell, a 20-year-old college student.
"At this point in time I feel as though the popular vote should be the deciding factor in electing the President as it is in every other election," she added.

Bell was not the only one to believe the electoral system is defunct.
"I believe that as with many things in our nation's constitution and other founding documents, the electoral college and its effectiveness should be reviewed. America has progressed over the years and our policies and procedures should follow suit," said Sierra Blanchard-Hodge, a 21-year-old Xavier University student.