Gwen Ifill's Funeral Was A Revival Meeting For America
Kermit Williams Jr. | 11/21/2016, 11:51 a.m. | Updated on 11/21/2016, 11:51 a.m.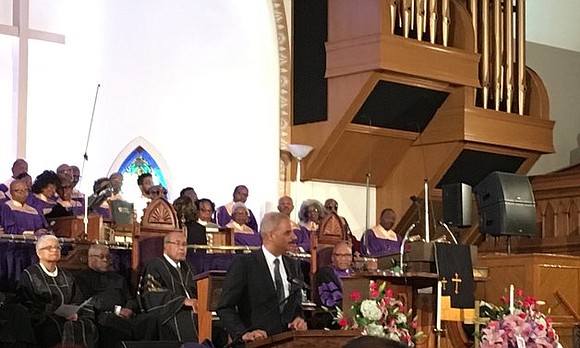 WASHINGTON – The Ifill family's journey from Barbados to the pinnacle of American society was an arduous and inspirational one.
It was not the kind of story you heard from the campaign of Donald Trump, because it is one that undercuts and invalidates the worst aspects of the message of fear of "others" that Trump peddled.
The Ifills left three generations ago, with an education in faith and a faith in education, but no money or prospects. They made their way to jobs in the U.S. Canal Zone in Panama, though because of their race and status they had to live outside the zone in Panama proper.

"It was like the old segregated South," Sherrilyn Ifill, one of the descendants of those pioneers, told me Saturday. "It may as well have been Alabama."
With the men working on the canal and the women working as domestics, they made the money and got the papers to come to America.
Two young brothers of those founders became ministers in the African Methodist Episcopal Church, traveling from post to post in New York and elsewhere in their new country.
One of the brother's daughters, Sherrilyn, attended Vassar College and NYU Law School and is now the president of the prestigious NAACP Legal Defense and Education Fund ― the organization Thurgood Marshall ran when he won the Brown v. Board of Education lawsuit.
One of the other brother's daughters was Gwen Ifill, the trailblazing and widely respected print and television journalist who died last Monday of endometrial cancer at the age of 61 in Washington.