Activist, Musician, Dooky Chase, Jr., Passes
11/30/2016, 6:15 p.m. | Updated on 11/30/2016, 6:15 p.m.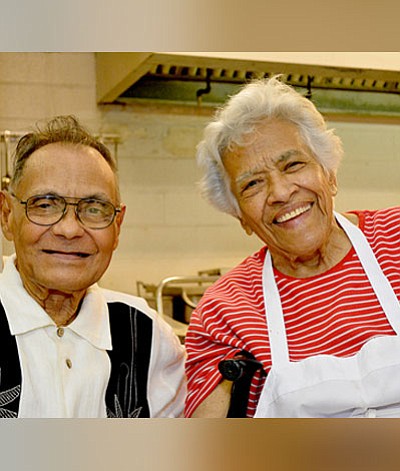 On Tuesday, Nov. 22, 2016, the City of New Orleans lost a famed Musician, Civil Rights Activist, and an Iconic Restaurant Owner.

Edgar Lawrence "Dooky" Chase, Jr., passed away at 88 years old in New Orleans on Nov. 22nd.
Dooky, Jr. was born March 23, 1928, in New Orleans. He was most notably known for his family restaurant, Dooky Chase's Restaurant, which was originally owned by his Father Edgar Lawrence and Emily Tenette "Dooky" Chase, Sr. While Dooky, Jr.'s, parent originally opened a sandwich shop in 1939 after years of saving, the Dooky Chase Restaurant officially opened in 1941 at 2301 Orleans Avenue.
Dooky, Jr. worked closely with his parents at the new Chase restaurant. While working at the establishment, he pursued his dreams of becoming a Jazz Musician. During his late teen and early adulthood, Dooky, Jr., performed in the Dooky Chase Orchestra, which was a big band group. He managed the band, and was an exceptional fundraiser according to his peers.
While Dooky's big band career came to an end, he continued to work side-by-side his parents by maintaining the Chase Restaurant. Dooky, Jr., briefly worked as a promoter for jazz musicians, and quickly becoming close friends with music icons such as Duke Ellington and Quincy Jones.
He also remained a strong advocate of Civil Rights, and encouraged many African-Americans to vote during the Civil Rights Movement. Dooky, Jr., transformed the Dooky Chase Restaurant into a stronghold and haven for many progressive groups fighting for Civil Rights, and prominent African-American Musicians in the New Orleans.
The Chase Restaurant housed Duke Ellington, Nat King Cole, Sarah Vaughn and Comedians Timmy Rodgers, and Paterson and Jackson.
Dooky, Jr., along with his wife Leah Chase, were both strong supporters of Black Art in New Orleans and showcased various performances and visual pieces at their restaurant.
Chase., was also a leader in his community. Dooky, Jr., served as Vice-President of the New Orleans Tourist Commission in 1978 to 1983, a board member of the Jazz and Heritage Festival during its creation and a member of the Committee for the 1984 World Fair.
In 1957, Chase took over the Family business in 1957 after his father passed. Chase worked with his wife, Leah Chase and his mother until his mother passed in 1995. The couple continued to run the restaurant together until Chase Jr. passed on November 22nd.
Dooky, Jr., leaves behind his wife, Leah Chase, three children, 15 grandchildren, 26 great-grandchildren, and many in-law relations.