NNPA President Benjamin Chavis Recalls Fidel Castro's Fight Against Apartheid
Stacy M. Brown | 11/30/2016, 6:10 p.m. | Updated on 11/30/2016, 6:10 p.m.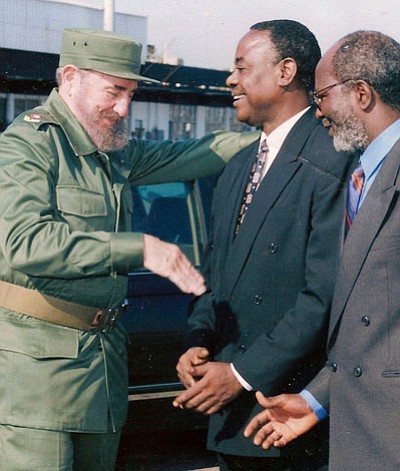 The death of Fidel Castro has been met with varying reactions, including condolences to the fallen Cuban leader's family by former President Jimmy Carter and President Barack Obama.
For some, like Dr. Benjamin Chavis, the president and CEO of the National Newspaper Publishers Association, remembrance of Castro's reign will always include his support of the imprisoned Nelson Mandela.
Chavis vividly recalled the Cuban leader's fearless intervention against Apartheid South Africa.
"Fidel Castro's unprecedented contribution to liberate humanity from imperialism will live forever," Chavis said on Sunday.
A lifelong and dedicated civil rights activist, Chavis knew first-hand the battles of Apartheid and what Castro did to assist the oppressed in South Africa. Chavis recalled the time he spent shoulder-to-shoulder with Cuban and African troops as they fought against the oppressive South African government during the 1988 "Battle of Cuito Cuanavale."
In the 1980s, the frontline African nations that bordered South Africa were periodically being militarily violated with the brutal violence and repression that became routine of the Apartheid regime, said Chavis who first wrote about his experience three years ago, in a column published by the L.A. Watts Times.
South African military attacks directly on the African National Congress (ANC) inside South Africa and in Angola, South West Africa and in other areas of southern Africa had escalated.
South Africa invaded South West Africa – which is now Namibia – and the Republic of Angola.
"Castro urgently dispatched more than three hundred thousand Cuban soldiers to Angola over several years to help stop and to eventually defeat the South Africa military on the ground in Angola in 1988," Chavis said, noting that, by contrast, U.S. President Ronald Reagan tacitly supported Apartheid South Africa and tried unsuccessfully to have a "constructive engagement" with Apartheid under the guise of preventing communism in southern Africa.
Chavis traveled to Angola in 1988 on more than one occasion to witness how Cuba was helping the MLPA (Popular Movement for the Liberation of Angola) in Angola and the ANC as well as SWAPO (South West Africa Peoples Organization).
"I visited the battleground area in the aftermath of the Battle of Cuito Cuanavale that took place during a six-month period from the end of 1987 to the spring of 1988," he said, noting that that battle was the largest, single armed conventional warfare on African soil since World War II. "I went down into the foxholes with Cubans, Angolans, Namibians and native South Africans, all fighting together heroically to liberate southern Africa from oppression, colonialism and imperialism."
"One of the key commanders of all the Cuban troops in southern Africa was Raul Castro Ruz, Castro's younger brother," he said.
In a statement issued this weekend, the Nelson Mandela Foundation noted its sympathies for the government and people of Cuba in the wake of Castro's death, calling him "The revolutionary father of the South American country."
"On behalf of our Chairman, Trustees and Staff, the Nelson Mandela Foundation would like to send our deepest condolences to the people and government of Cuba on the passing of Fidel Castro," Foundation officials said.