Using Art for Social Change
Southern Parlor Series Reflects on Black History, Current Injustices
Nigel Palmer | 10/3/2016, 5:07 p.m. | Updated on 10/3/2016, 5:07 p.m.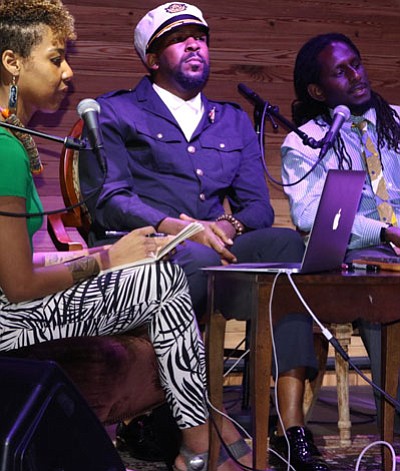 The Ace Hotel's Gallery was full of powerful pictures that turned your happy smile to a solemn face. The purple room reminded everyone of their noble heritage. The small rooms made everyone feel at home and connected. The jazz music had a rhythm that made you tap your feet unknowingly. The bar was in the corner, just for elegance.
Gia Hamilton had a vision.
When Hamilton founded the Afrofuture Society in 2015, she wanted to create a safe space where people could feel comfortable in their own skin. The society's membership seeks to connect people of African descent in the visual arts community and provides a creative space for Black people and their allies.
From August to September 2016, the society launched the Southern Parlour Salon Series where 18 visual artists led discussions on topics such as abstraction, activism, and aesthetics.
"Southern Parlour investigates the creation of safe space, art making as a process, activism, and blackness as a metaphorical concept," said Hamilton, a native of New Orleans who also serves as the Principal Curator for the society.
"In a living room setting, artists, writers, practitioners, and the viewer share intentionality of the expansion and contraction of blackness in a 'leased,' or occasional space," Hamilton said. To tackle these subjects, Hamilton invited Stylist Torrence Taylor, Poet Quess Moore, and Organizer Cairo Kwame on Tuesday, Sept. 27th at the Ace Hotel on Carondelet Street. For the closing ceremony on Oct., more visual artists will talk about social injustice.
Taylor screened a video that was filmed on his organization the NOLA Nobles. "The Nobles were founded so that Black men could see their self in another way often," Taylor said. He instructed members of the Nobles to wear suits and always to dress their best because that was part of African culture and heritage. He said royal African history was something that he believes African-Americans have forgotten. He tells the members of his group that dressing nice is not a fashion statement, but restoring self-identity.
Poet Quess Moore screened a spoken word video he co-produced. His film portrayed the pain that one feels when they see another person of color being lost to gun violence and not receiving justice. "Your emotions go through things when you constantly see people like you being treated like garbage," Moore said.
Organizer Cairo Kwame said he came to New Orleans in 2010 to pursue his goal of becoming a filmmaker but found his passion in activism. "If you're going to do something, be revolutionary with it, whatever it is, be revolutionary," Kwame said.
On Saturday, Sept. 24., 2016, both Kwame and Quess said they took their expressions to the streets as they joined forces with the group Take 'Em Down NOLA to call for the removal of Confederate monuments around the City of New Orleans. "That's an altar, not a statue, an altar. And [when] we look at an altar, you gotta ask yourself what's the sacrifice for the altar. And we know the answer, our bodies are the sacrifices," Moore said.