Spice Girl Project Review
Delaney George | 10/31/2016, 5:26 p.m. | Updated on 10/31/2016, 5:26 p.m.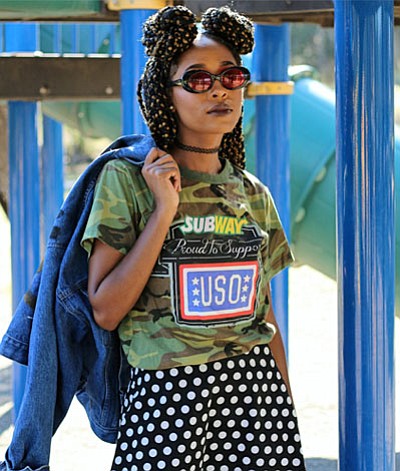 Delaney George
The eccentric, vibrant, forever young essence of the famous "Spice Girls," Band was reincarnated at City Park last Tuesday through the vision of a young 23-year-old Stylist Syrajh Hamilton.
Born and raised in New Orleans, Hamilton has been styling for over five years; involving himself in concept photography, artist styling, and various local fashion shows and events in New Orleans.
Hamilton's concepts and visuals incorporate New Orleans lifestyle, authentic New Orleans landmarks, as well as always keeping locals involved in his projects.
"I aspire to make a statement through clothing that's as loud as my personality," Hamilton said.
The Spice Girls photoshoot took place in City Park's playground, where local New Orleans model Mariah Robey, dressed in dynamic patterns from head-to-toe, accompanied by an array of colors as a background.
"New Orleans is a very colorful City, you can find vibrant inspiration anywhere, even in a simple playground," Hamilton said. The stylist bases his career on his wild styling abilities and unique but notable shoot locations. Hamilton has conducted shoots at places such as American Apparel, Manning's, Nola Music Awards and The West inn.
"I always listened to The Spice Girls as a kid, it's funny how I get to represent them now. I'm just glad Syrajh chose me to help bring his vison to life," Robey said.
Hamilton will be working on another visual project late this November titled "The Perfect Guy" a GQ inspired series. He welcomes locals to attend what he calls "live shoots" as well.
"I love showcasing what I do in person rather than social media, especially when it's being showcased to the people I do it for," Hamilton said.
Hamilton will also be releasing a fall/winter clothing line from his brand Syrajhoxo. To see more from the young New Orleans Stylist, visit www.Syrajhoxo.org or keep up with all his release dates and events via Instagram @Syrajhoxo.