New Orleans Fashion Week Creator Tracee Dundas Paves Way for Next Big Names in Fashion
Edwin Buggage | 9/27/2016, 5:07 p.m. | Updated on 9/27/2016, 5:07 p.m.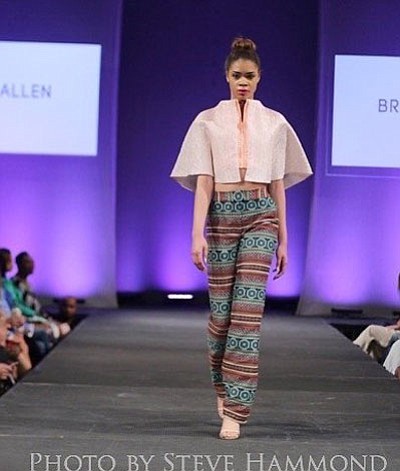 For the past several years New Orleans has become a hotspot for people coming to visit and live. Because of this new industries and innovative ideas have emerged. These conditions created a spark for the vision of Tracee Dundas, who started New Orleans Fashion Week NOFW in 2011 where designers and others in the fashion industry get a chance to showcase their work. Recently, one of her alums and winner of her Designer Challenge Brik Allen was chosen to be one of this season's contestants on the hit show "Project Runway" on Lifetime Television, hosted by Supermodel Heidi Klum, where designers compete for cash and prizes and help raise their profiles in the fashion industry.
"It is exciting to know that a third designer who showed at New Orleans Fashion Week has been cast for Project Runway," Dundas excitedly she says. "Undoubtedly, this speaks volumes to the talent we have in the southern region. Pursuing a career as a fashion designer is not the easiest road to travel. Most designers invest their personal money into making their dream a reality. So, to see designers, like Brik Allen, Anthony Ryan, Sandhya Garg, and Pedram Taheri take their career to the next level is amazing! Additionally, a program like Project Runway can help open new doors and opportunities for these emerging designers. Designer Pedram Taheri has dressed celebrities from the Housewives franchise to NFL wives."
Dundas says New Orleans Fashion Week has come a long way since beginning in 2011. "The mission since the inaugural year (2011) remains the same, which is giving southern designers a platform to showcase their collection to local buyers, media and fashion aficionados. Every year I get a little anxious because of the uncertainty of having enough designers to bring the event together, but actually, that has never been an issue. New Orleans Fashion Week has attracted designers throughout the southern region, NYC, DC, and beyond. With each year my goal is to bring something new and fresh, from a Student Career Day, to a Designer2Boutique Networking Day, the idea is to continually grow and engage the fashion community. This year we are introducing a Jr Design Competition for kids and teens to participate."
There is a lot of preparation involved in putting together NOFW, she is in the beginning stages of the 2017 event, "Planning for NOFW happens year round. The dates for 2017 are set for March 19-24. The official call for designers is happening now thru Dec 2nd. However, I'm always scouting designers in the City, at universities and when I travel. It is important to be on the pulse of who is out there in the fashion community; I'm super excited about four talented designers that will debut at New Orleans Fashion Week 2017."
She says it is more than simply a week of events, but there are things she does throughout the year. "NOFW is more than just an annual runway event. We are working diligently to build the fashion industry through educational programs and workshops, networking opportunities, hosting and supporting designers, models, artisans and building a global presence throughout the year for designers like Brik Allen."