Group Pressures City on Monument Removal, City Stalls
Eugene Cooper | 4/19/2017, 1:06 p.m. | Updated on 4/19/2017, 1:06 p.m.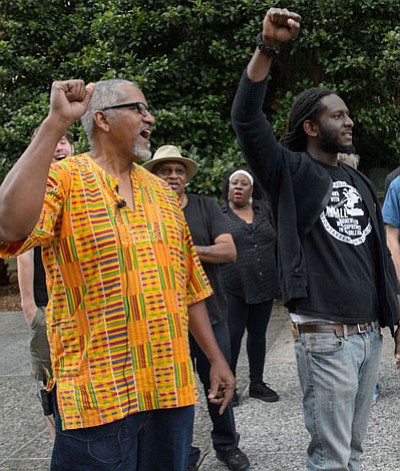 With the April 13th date passed to remove four confederate monuments in the City, local coalition Take Em' Down Nola said it will continue to press the City to follow on its 2015 vote to remove the monuments. The group staged a protest on Monday, April 17th, 2017 in front of City Hall around 11 a.m., citing both state interference in the removal, and reports of threats and other retaliation should the removal of the monuments continue as planned.
"These efforts by these diehards in the state government...are another attempt to rescue the lost cause," said Malcolm Suber, a Coordinator for Take Em' Down Nola.
On March 6th, the 5th Circuit U.S. Court of Appeals upheld the City's decision to remove the four statues after the City was challenged in court by the Monumental Task Committee and the Louisiana Landmarks Society. The City should have removed the monuments by now, but the group is protesting that no action has occurred to date. The four statues marked for removal are Confederate Gen. Robert E. Lee at Lee Circle, Confederate President Jefferson Davis in Mid-City, Confederate Gen. P.G.T. Beauregard at City Park, and the Battle of Liberty Place Monument at Iberville Street.
Local Organizer Michael "Quess" Moore described the ongoing protest as always being about the need for a public conversation about public space and symbolism for all people in the City and the state.
The monuments were "visual reminders of the horrid legacy of slavery that terrorized so many of this City's ancestors," Moore said at the protest. "They deeply misrepresent the community of New Orleans. This is a City that demands freedom to live, not forced to pay taxes for maintenance of public symbols that mean us terror. They don't belong there." Moore said. He said he wanted the removals to be a public act that reconciled the City and the country's racist past and allowed history to be truly represented and not whitewashed.
The City is still to find a firm willing to remove the monuments. The group said they will not take unauthorized action against the City, but instead, they will continue to appeal, lead the community in protests and ask residents to call their council members to push them to follow-through on removing the monuments.