Anthony Bean Recognized at Big Easy Entertainment Award 2017
Harvey Brown | 4/26/2017, 11:13 p.m.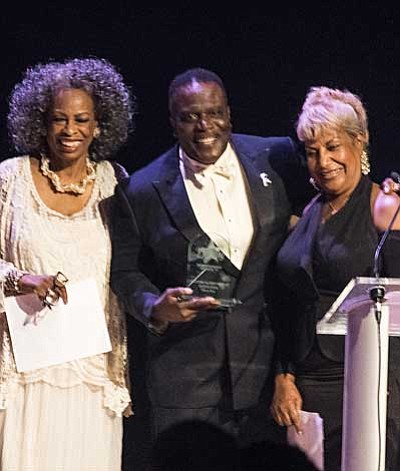 On Monday, April 24th, at the Orpheum Theater, New Orleans Playwright and Artistic Director Anthony Bean received the "Theater Lifetime Achievement Award" from Gambit at its Big Easy Entertainment Award 2017. Bean's former Acting Teacher, Pat McGuire Hill, and Actress Carol Sutton presented Bean his award.
"We've come a long way. When I started in '72, African-American Theater was a necessity because there was no room," Bean said.
"I didn't ask for a seat at the table, I brought my own seat. Sometimes I brought my own dinner, too," he added.
Bean noted that theater in New Orleans has become more diverse, catering to a variety of ethnic groups. He also thanked Gambit for recognizing and acting on the need of diversity in the arts.
At the award ceremony, Bean was acknowledged for his unmatched talent, and undying motivation to bring diversity to the field of theater for over 45 years. At the age of 16, Bean partnered with his older brother, Jomo Kenyatta Bean, to create the Ethiopian Theater, which particularly showcased Black talent.
In the year 2000, Bean created the Anthony Bean Community Theater—a theater designed to showcase and cultivate African-American theatrical talent—located in East Carrollton. ABCT is the only theater that specifically served African-Americans and catered to their vernacular in New Orleans.
In 2016, Bean moved his theater to Gentilly, where the planned $2.3 million campus—which will be over a block long—is being developed.