Love Is the Answer…Who Cares What the Question Is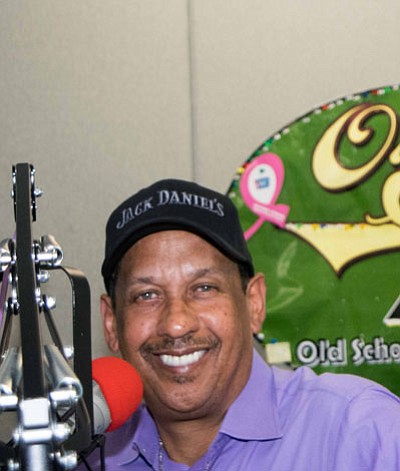 The Origins of the Man and His Love of Music
His velvety voice is recognized all over New Orleans, accompanying the sounds of smooth soul. Born Gregory Vigne, but known to his dedicated listeners as "Papa Smurf," Vigne has been a radio DJ/Personality for four decades. For many, he has curated the soundtrack of many special moments. His signature sign off, "Love is the answer, who cares what the question is," has become a phrase generations of people have come to call their own.
So, the question is, who is the man behind this smooth voice?
"I was a courier for a local bank and I would hear all these local DJ's doing their thing on the radio and I said you know what that is something I'd like to do. I started out at WYLD Radio doing gospel music then moved to the FM side and the rest is history," Vigne said.
Vigne, is a Crescent City Native, and his voice evokes the unmistakable New Orleans accent.
When asked how did he transform from being called Greg Vigne to Papa Smurf, he recalled the moment with a smile.
"I didn't come up with the name, it was given to me by a friend of mine who would always come by the house and my sons were both very young and he would call them the 'Little Smurfs' and he would call me "Papa Smurf." And, one day I'd gotten to the radio station and I had gone from Greg Vigne to Papa Smurf and it's been that way for the last 40 years."
"I doubt if anyone knows my real name unless they went to school with me," he added.
Reflections of a Career in Radio and a Changing Music Industry
As a Radio Industry Veteran, Vigne takes a walk down memory lane, reminiscing his career and thinking how the medium has changed over the past 40 years.
"Music has really changed since the 70's. When I started, we were using wax, then there were carts, to CD's and now it's the computer. But I have found a way to stay relevant and adjust to the changes in technology and how people are getting music."
While music and trends change, somethings stay the same.
"It's just being out there with folks in the community. DJ Captain Charles and I have been doing this over the past seven years at Caesar's and it's just getting familiar with the new music. Artist's like Tucka, Nelly Travis and new to the music, the key is to have an open mind to what people are listening to."
He is not just a DJ/Radio Personality, but a lover of music.
"I am told that I am responsible for half of the population of New Orleans," Vigne said jokingly, talking about music he enjoys off air.
"The stuff I like is Smooth Jazz: Spryo Gyra, Jeff Lorber, Phyllis Hyman and the list goes on and on. I also like R&B with Luther Vandross, Jeffrey Osborne, LTD, the Bar-Kays, I am into old school, that's what I love," Vigne said.